Several reports have been published about the May 10th festival:
- Euronews: Le Mag, broadcast in 13 languages
- Népszabadság, the dailyy paper with the largerst circulation
- Ekultura.hu, an internet portal dedicated to general culture
- Cink.hu, a popular internet portal
A selection pf photos, most of them taken by László Lénárd:
Stage A: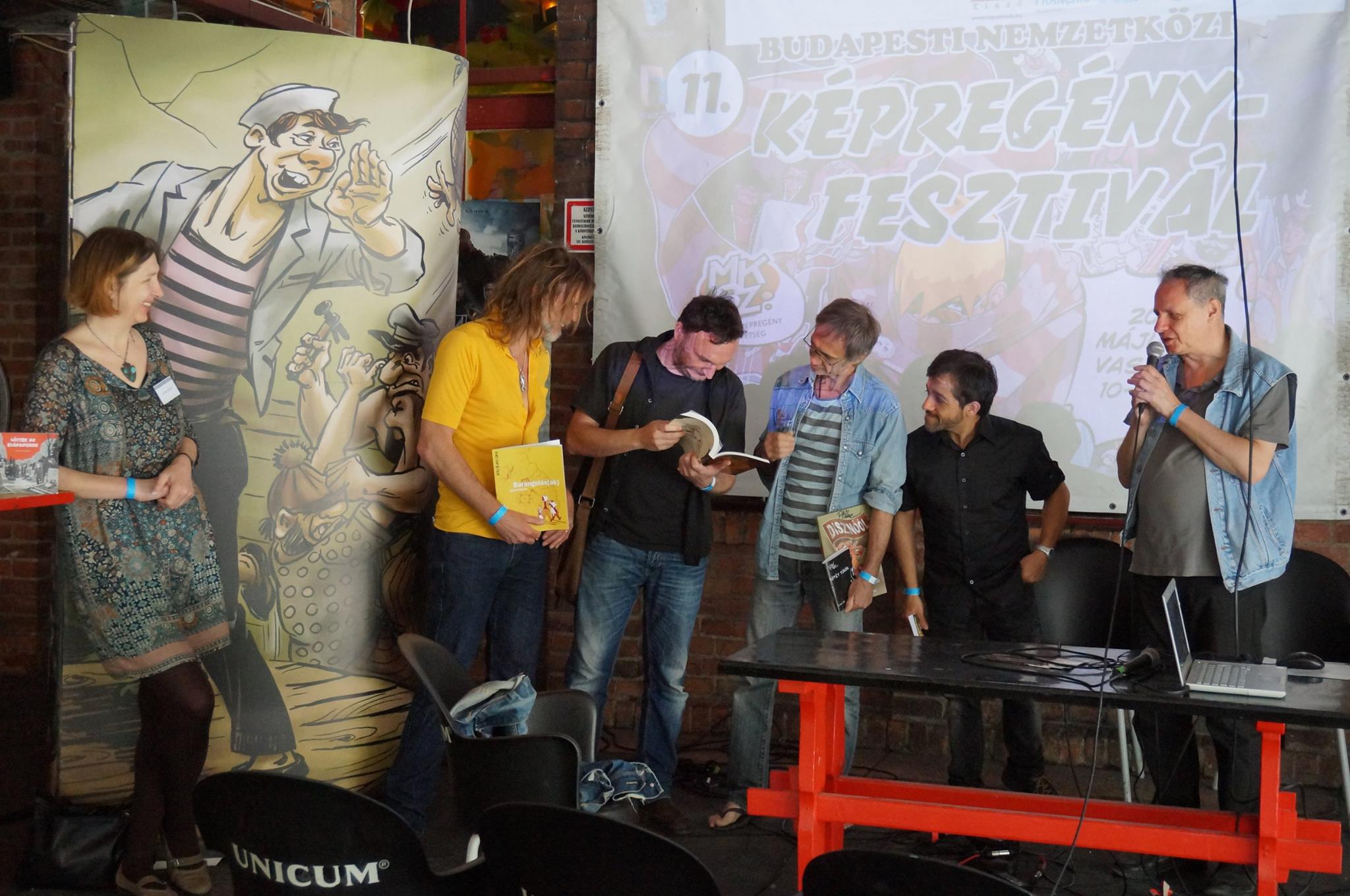 Official opening and introduction of international guests: Lucie Lomová (Czech Republic), Typex (Netherlands), Pierre Wazem (Switzerland), Ptiluc (France), Fabio Celoni (Italy), Antal Bayer (host)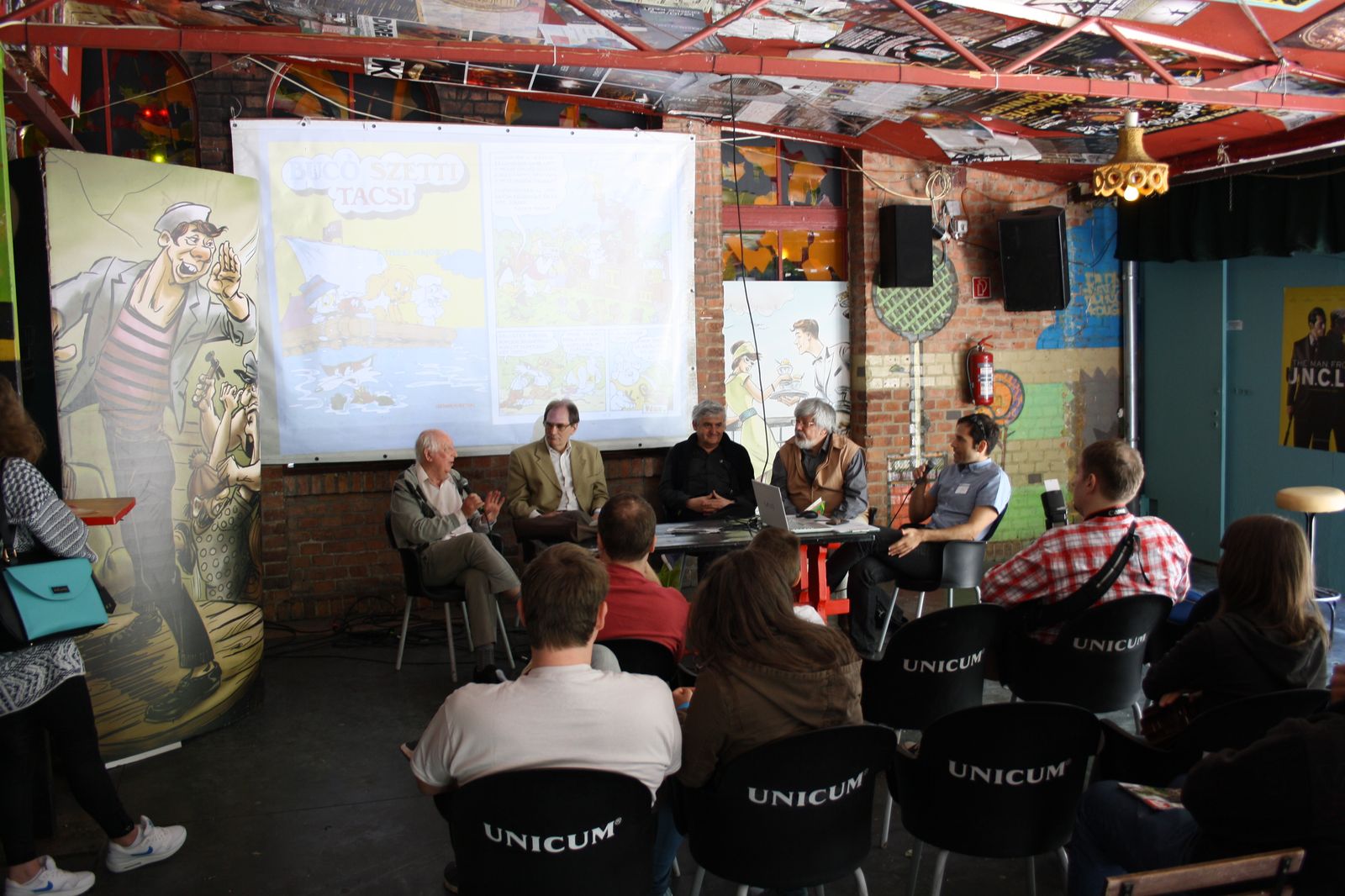 Bucó, Szetti, Tacsi: a roundable with the autors of the legendary chidren's comic of the 1980s. László Marosi (writer, publisher), Sándor Békési, János Verebics and József Haui, the successive artists, Róbert Vass (host)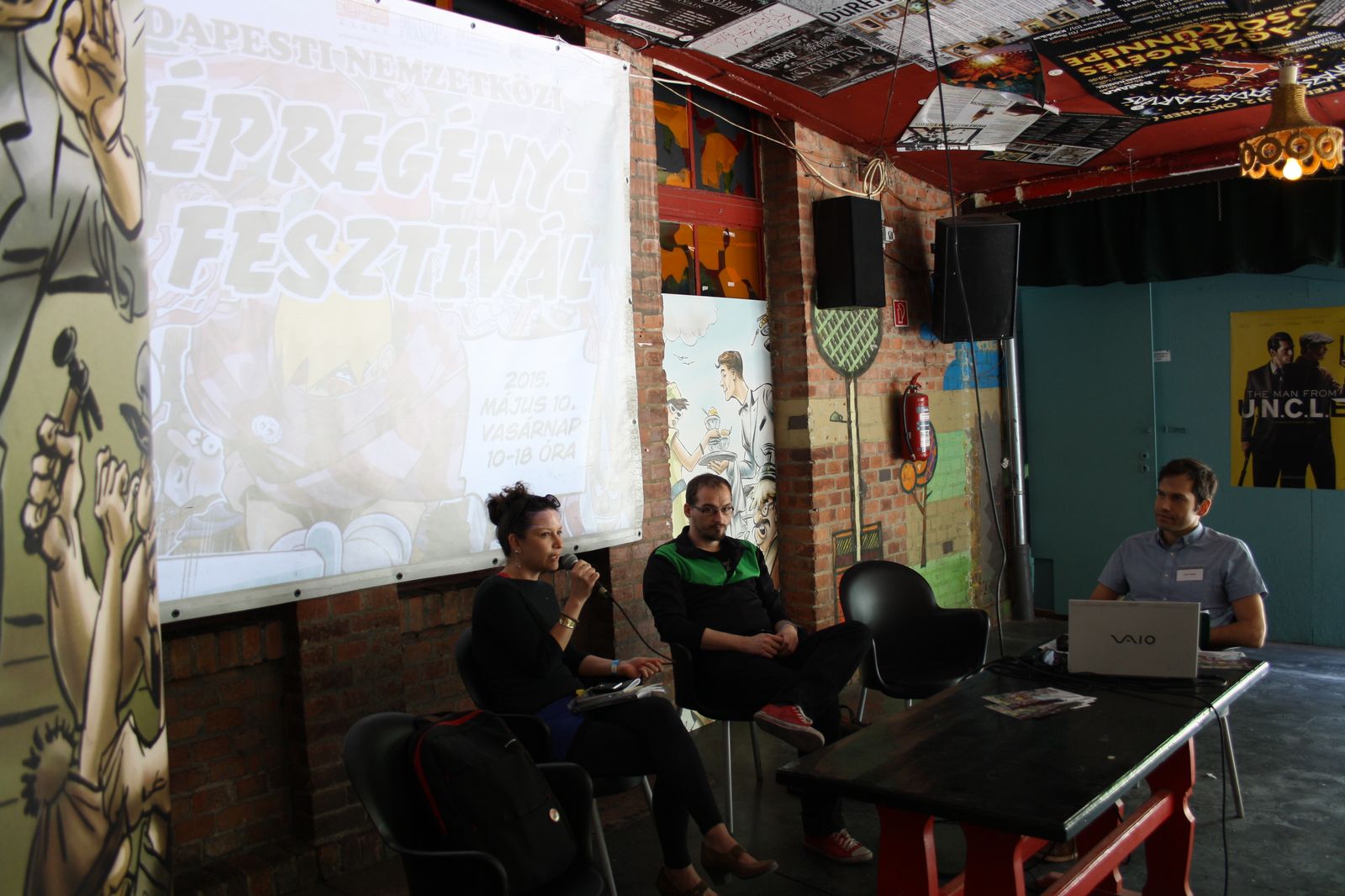 Hubby, the new children's books organization, member of Ibby: a presentation of the organization and its possible role in making comics more popular. Nikoletta Szekeres and István Lakatos with host Róbert Vass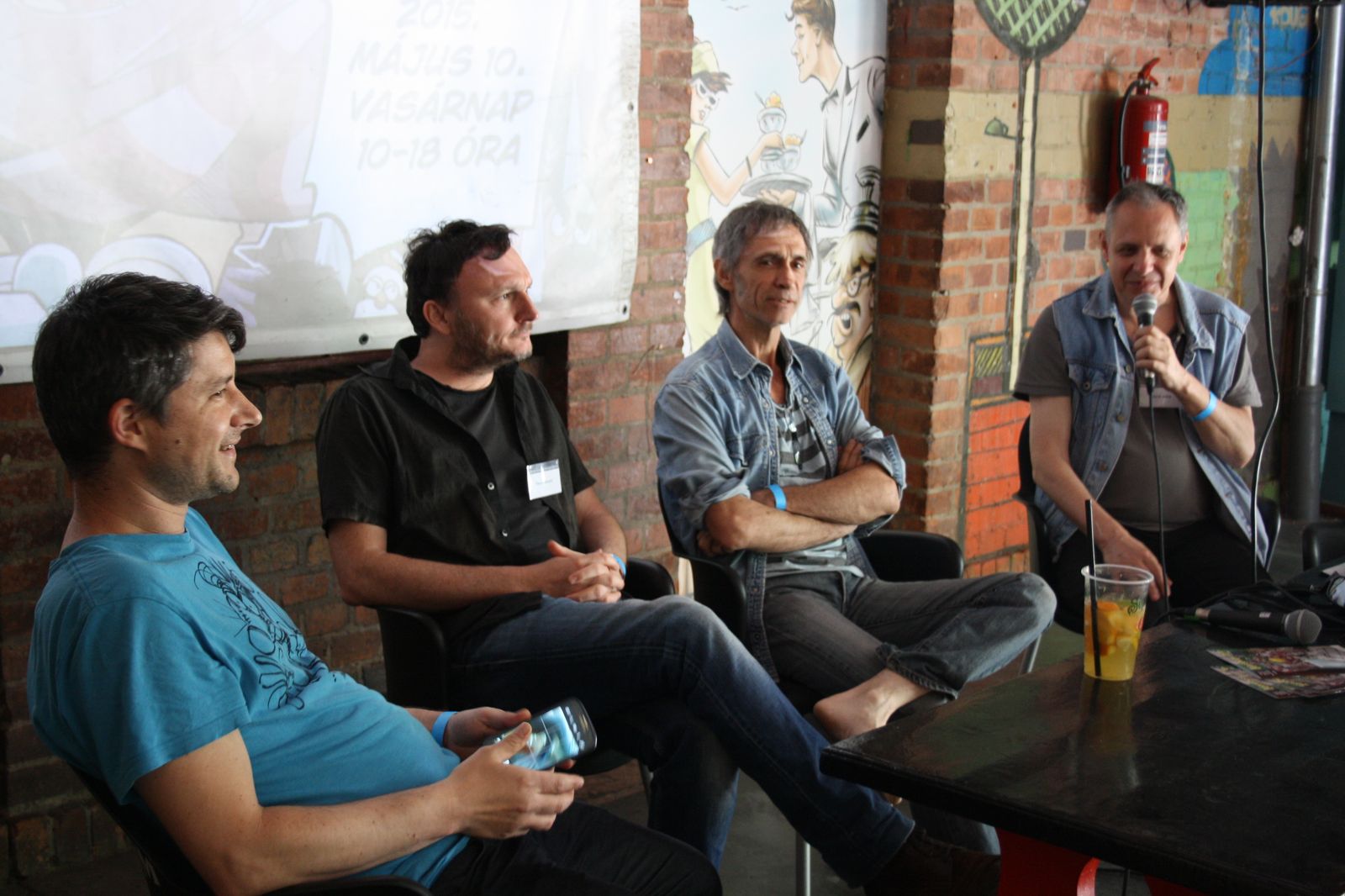 French comics today: Pierre Wazem and Ptluc with host Antal Bayer and translator (and Ptiluc's publisher) Gábor Meggyesi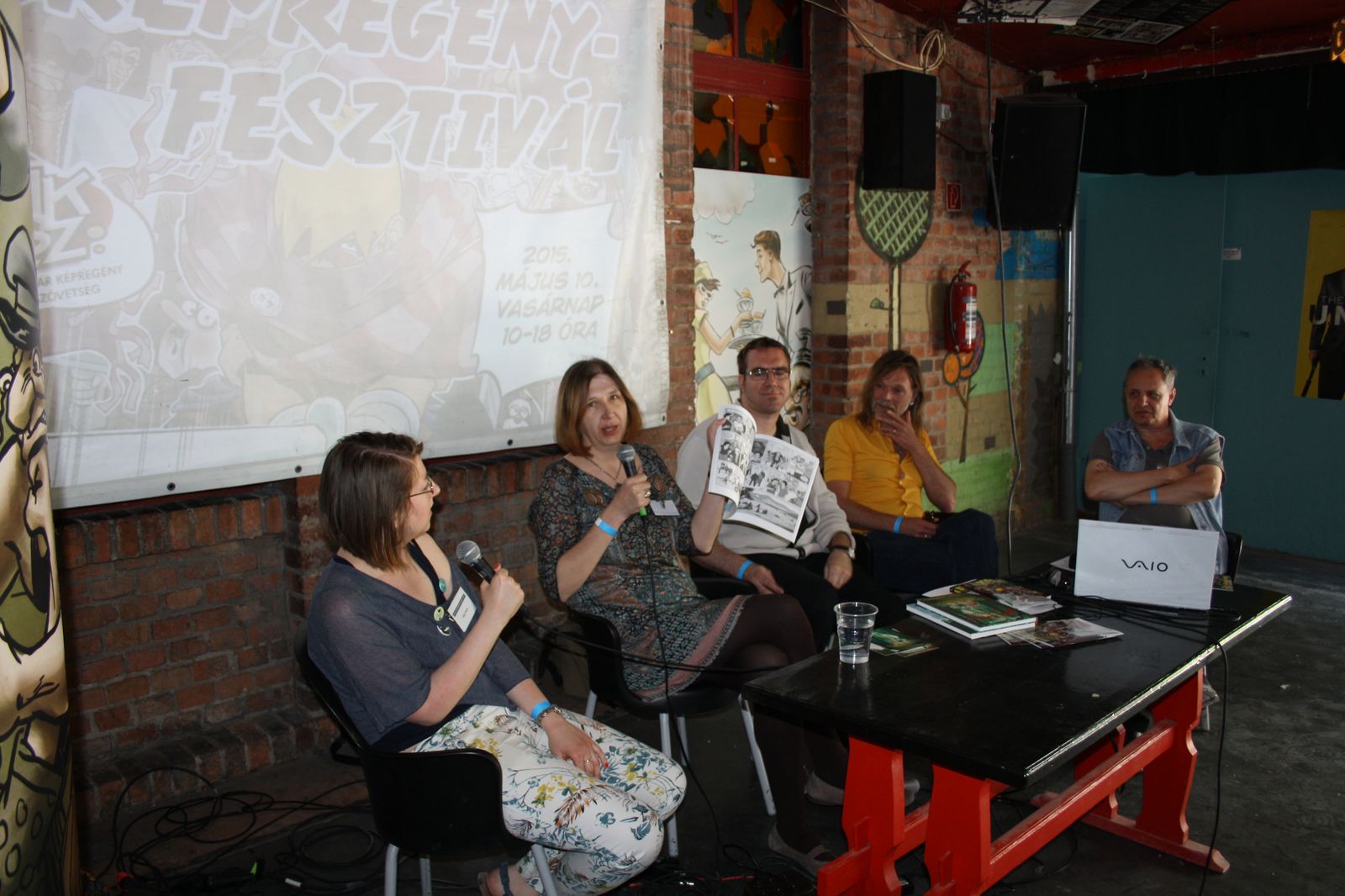 Comics and other arts, a roundtable with Lucie Lomová and Typex as well as host Antal Bayer and translators Eszter Szép and Zoltán Szécsi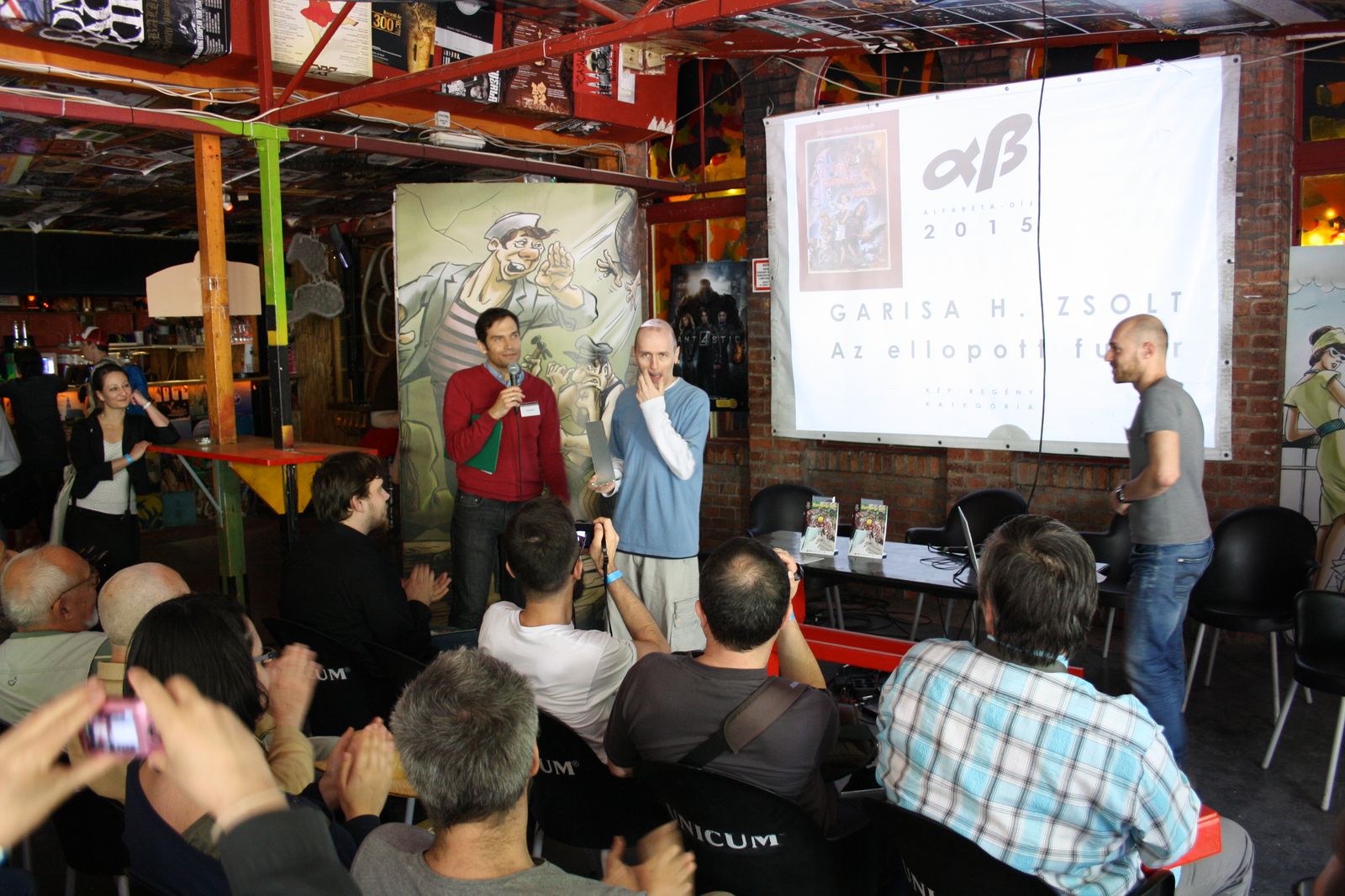 The Alfabéta award for best book-length comic goes to Zsolt Garisa, with hosts Róbert Vass and Gábor Korcsmáros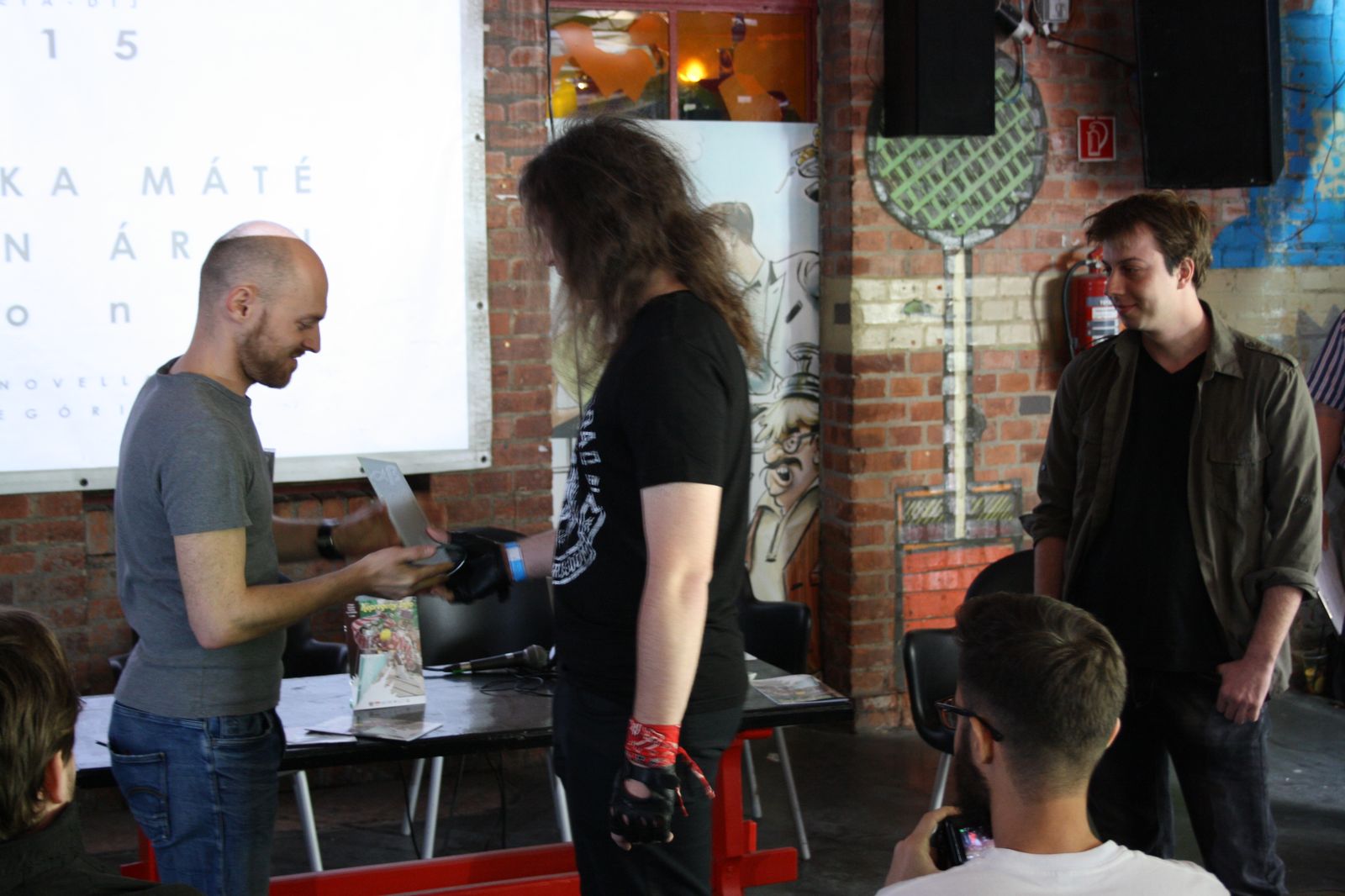 Alfabéta-award for best short comic: Máté Matuszka (writer) and Áron Kálmán (artist), with host Gábor Korcsmáros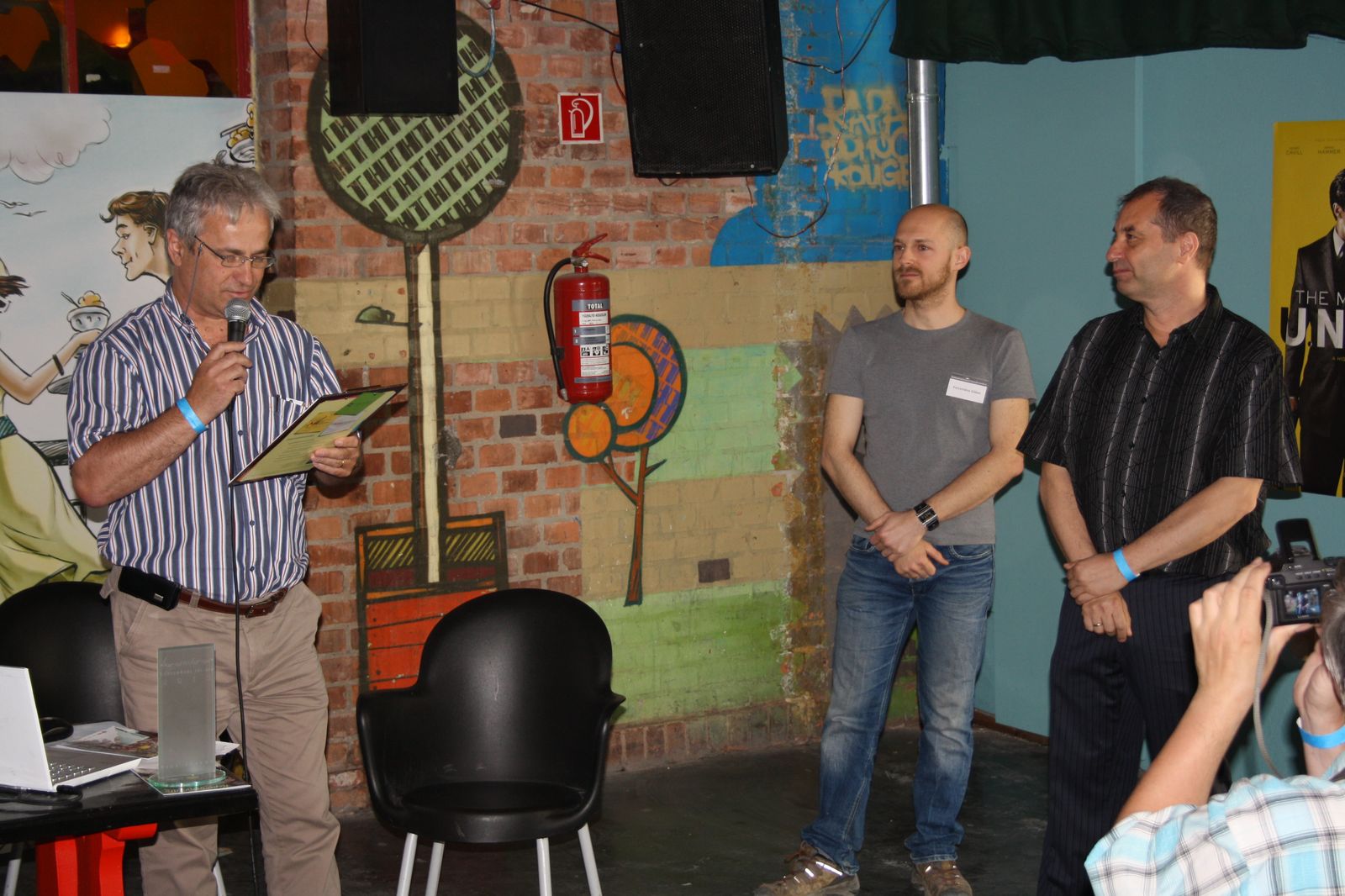 The Korcsmáros Pál award for outstanindg achievement goes this year to Ferenc Kiss (right), comics historian, collector and scriptwriter. Comics historian Sándor Kertész greets the winner, with host Gábor Korcsmáros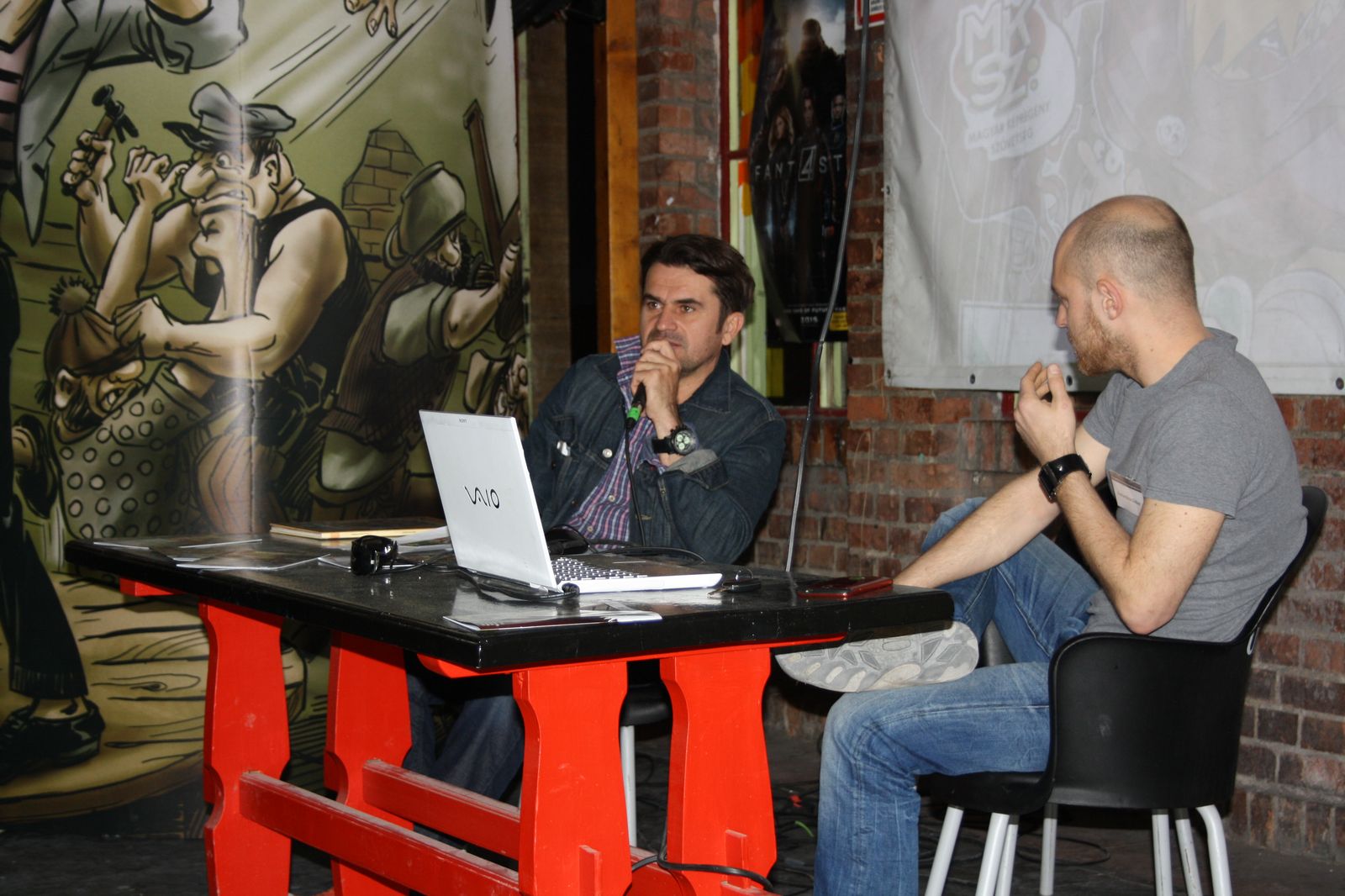 Actor Gábor Csőre was this year's special guest, who's lent his voice to a large number of comics-related dubbed films. Host: Gábor Korcsmáros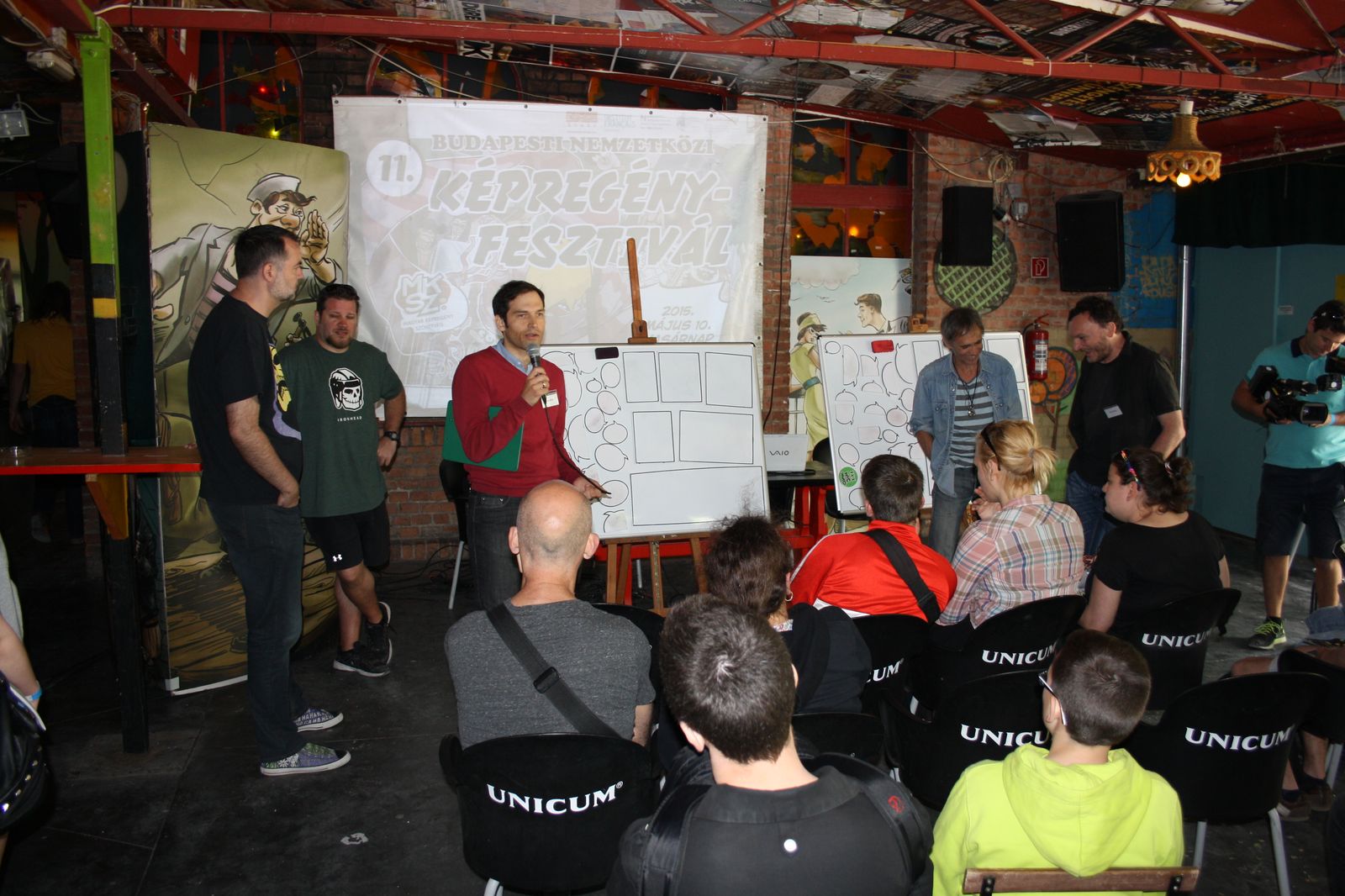 Preparing for the Comic Battle, host Róbert Vass introduces the home team on the left (Barnabás Ábrai, Gyula Németh) and visitors Ptiluc and Pierre Wazem on the right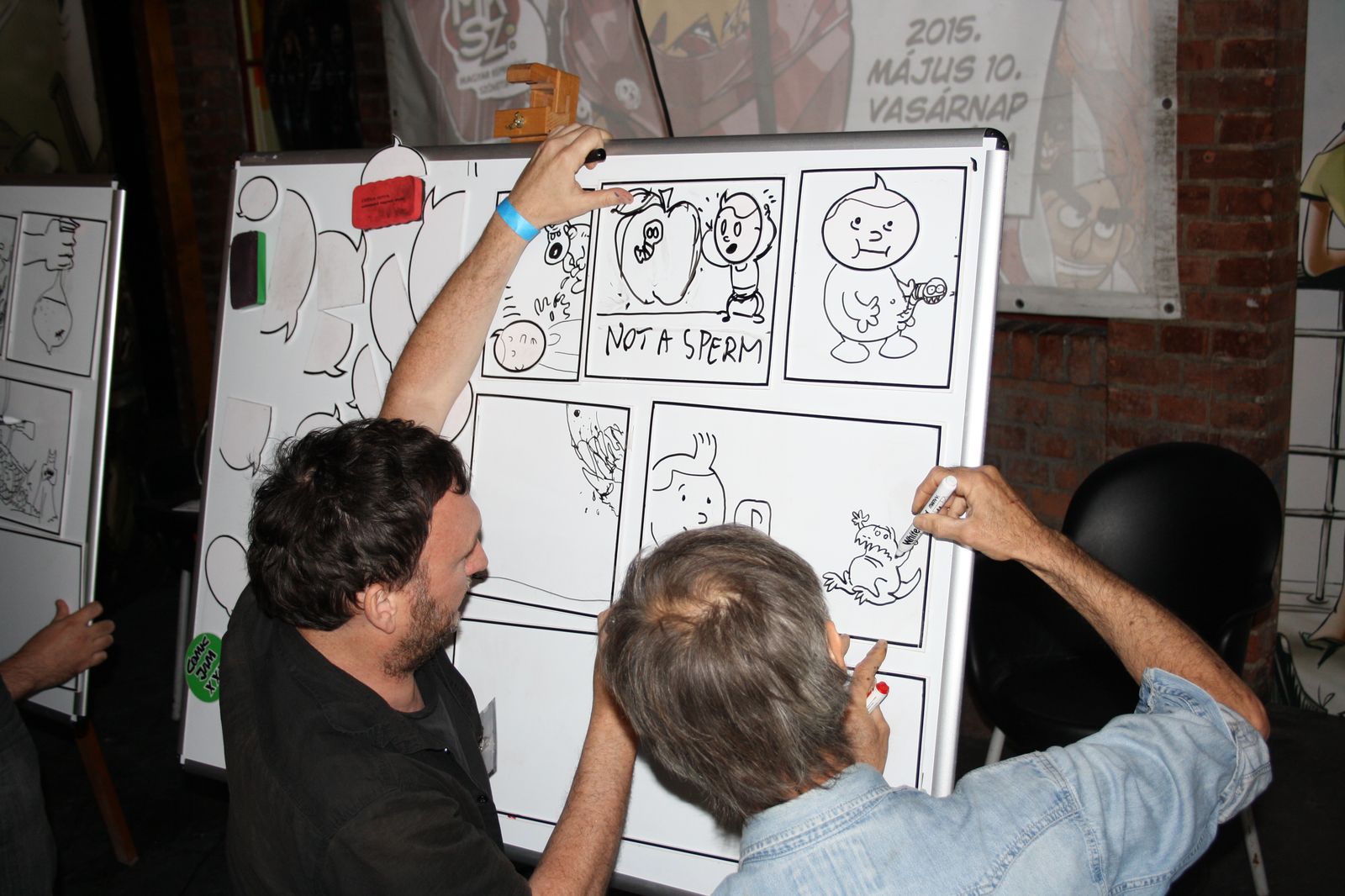 Comic Battle: Wazem and Ptiluc at work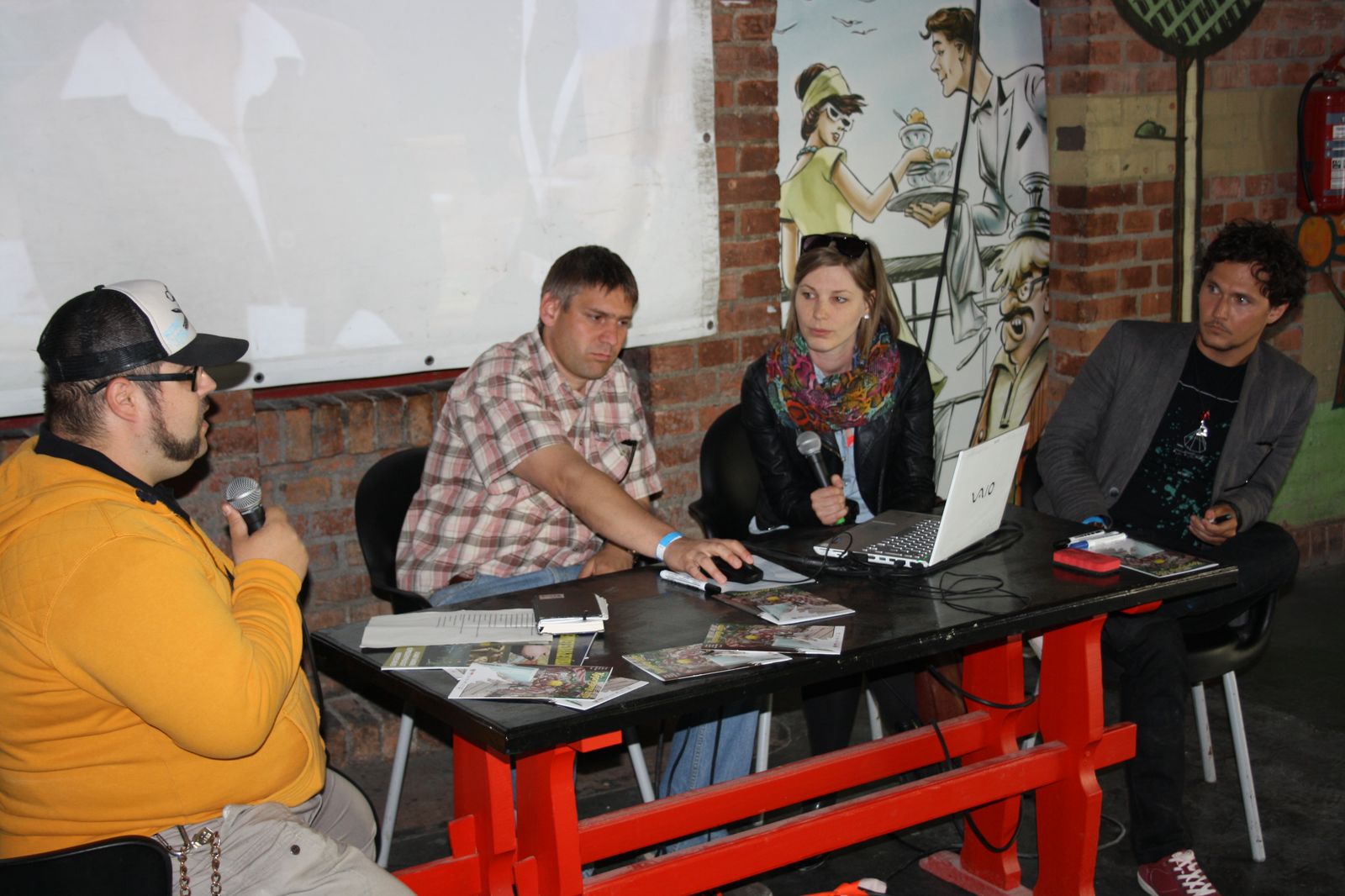 Introducing the Szeged Comics Festival: host Zoltán Fritz talks to Sándor Oros and Tímea Papp representing the Somogyi library and artist Roland Pilcz, creator of the festival's visuals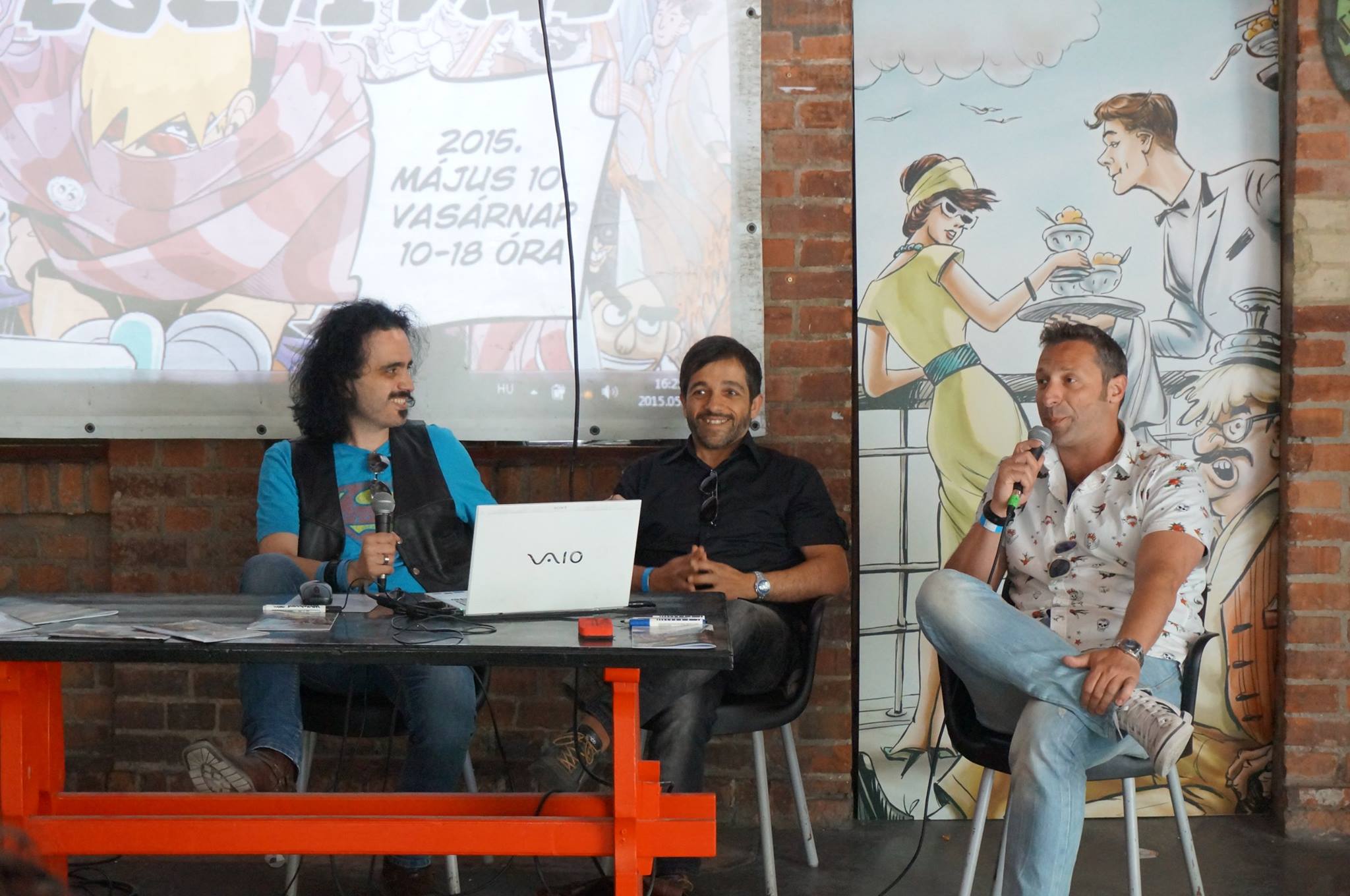 Talking to Fabio Celoni: host Antonio di Carlo (left), of the publishers of the Hungarian Dylan Dog series, with translator Stefano Cobbino (right)
A B színpad műsorai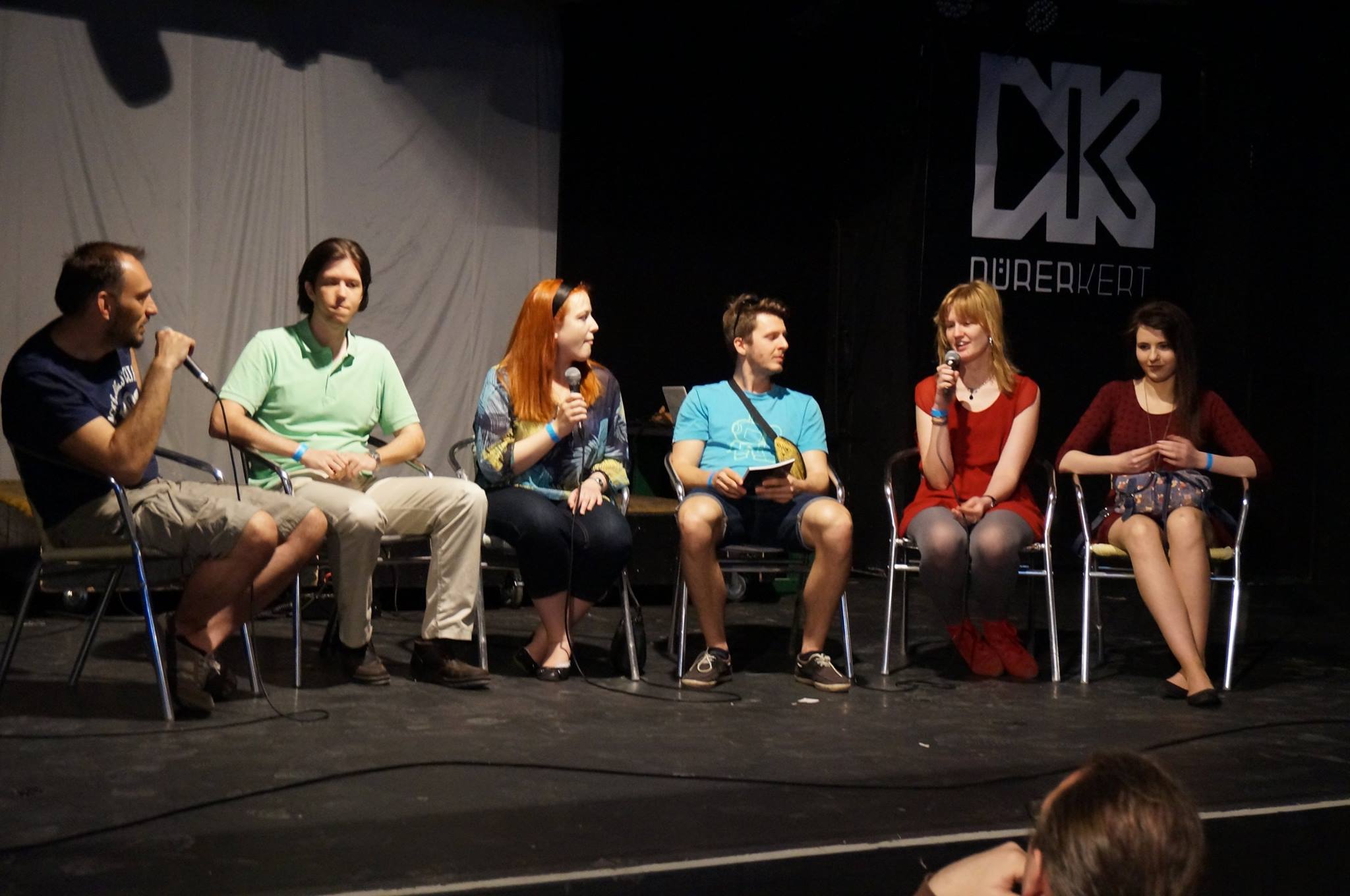 Dávid Cserkuti introduces the artists of the Épregény anthology, created by students of the Budapest Technical University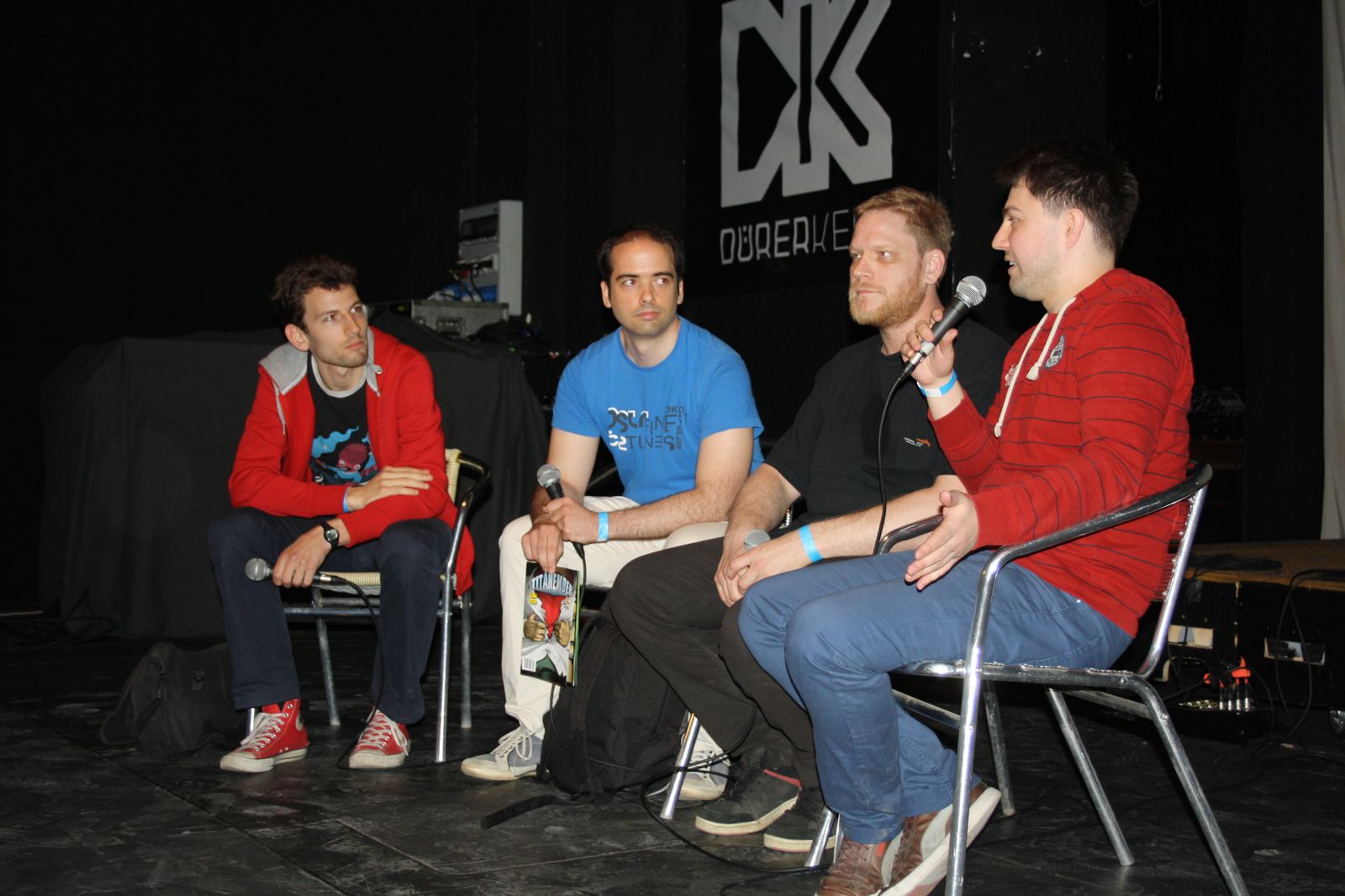 Host Bence Kránicz discusses Hungarian comics magazines with Gábor Juhász-Nagy, publisher and writer of Titánember, artist Máté Vadas and András Tálosi, publisher and editor of EpicLine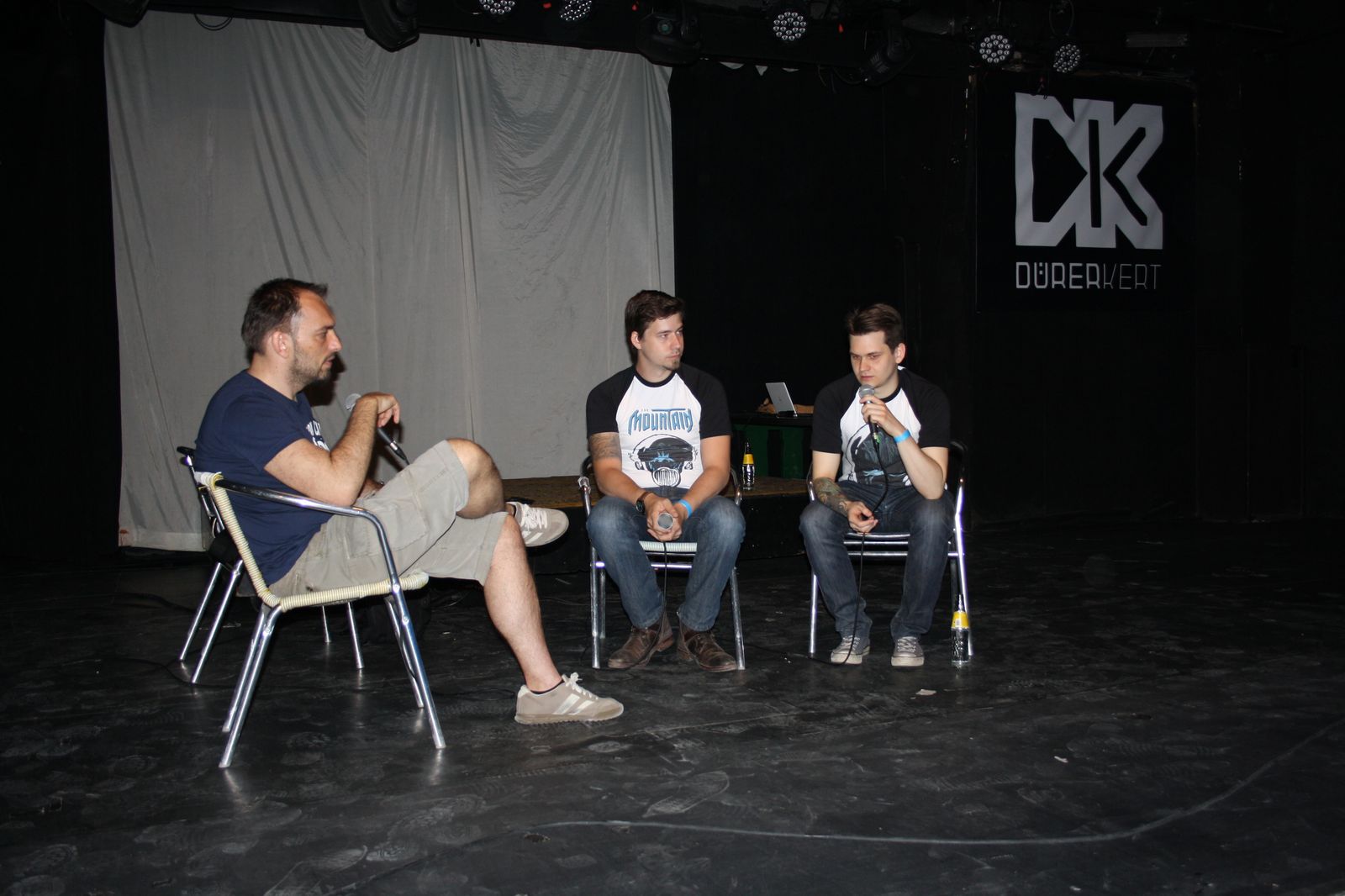 Writer Bálint Bánk Varga and artist Márk Pintér talking about the situation their graphic novel The Mountain, winner of last year's ArtComix competition, with host Dávid Cserkuti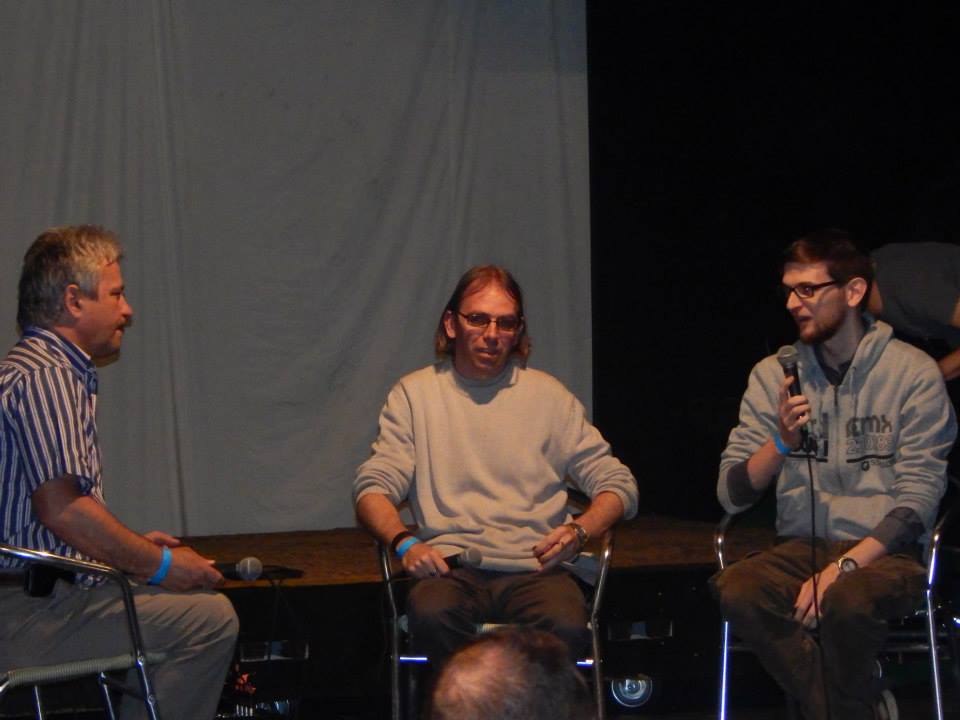 Zsolt Halmi (middle) talking about his latest project, The Pyramid of Death, with collaborator Attila Molnár and host Sándor Kertész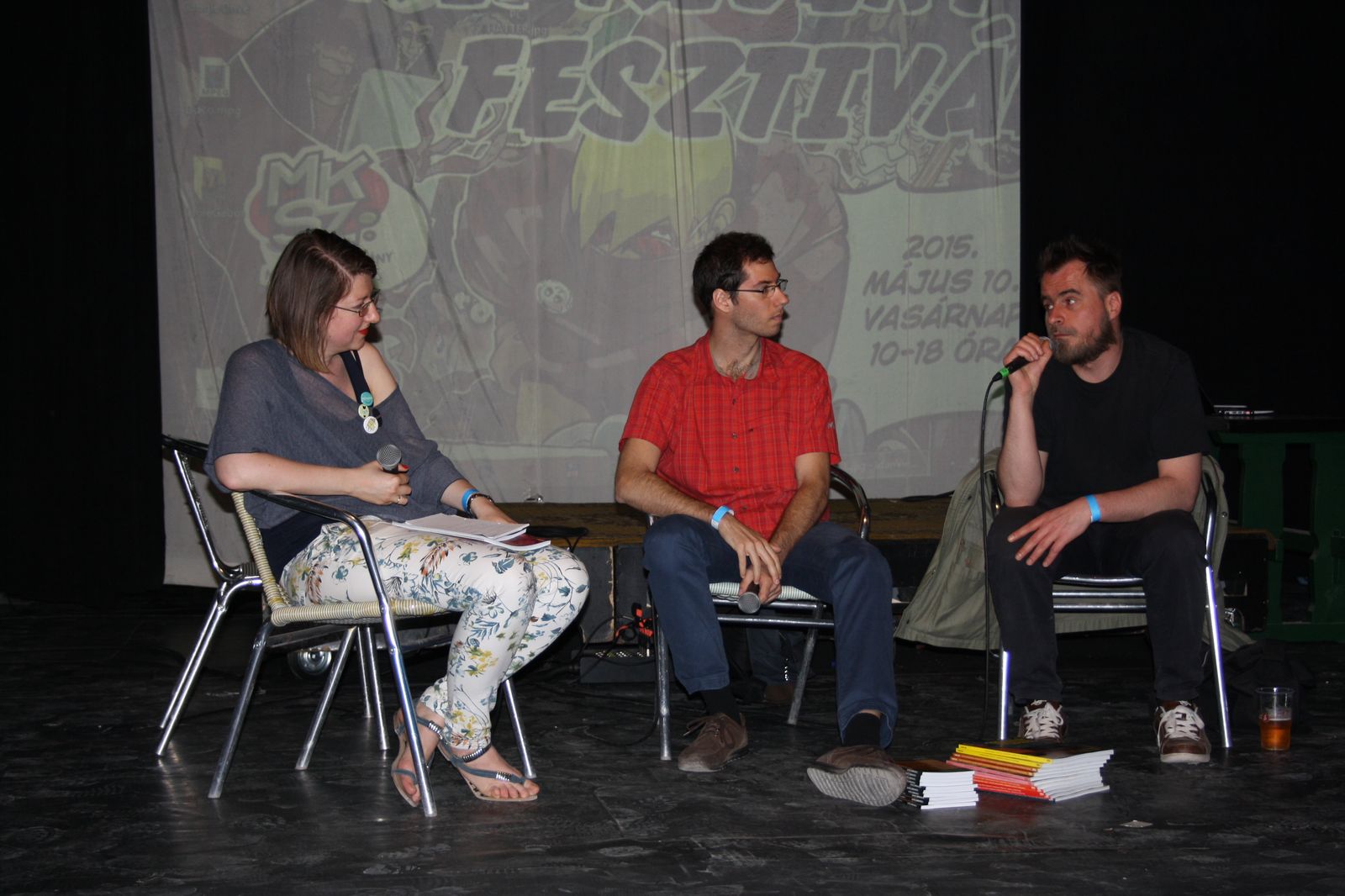 Comics in literary magazines: host Eszter Szép talking to editors Norbert Vass (Szépirodalmi Figyelő) and Lóránt Kabai (Műút)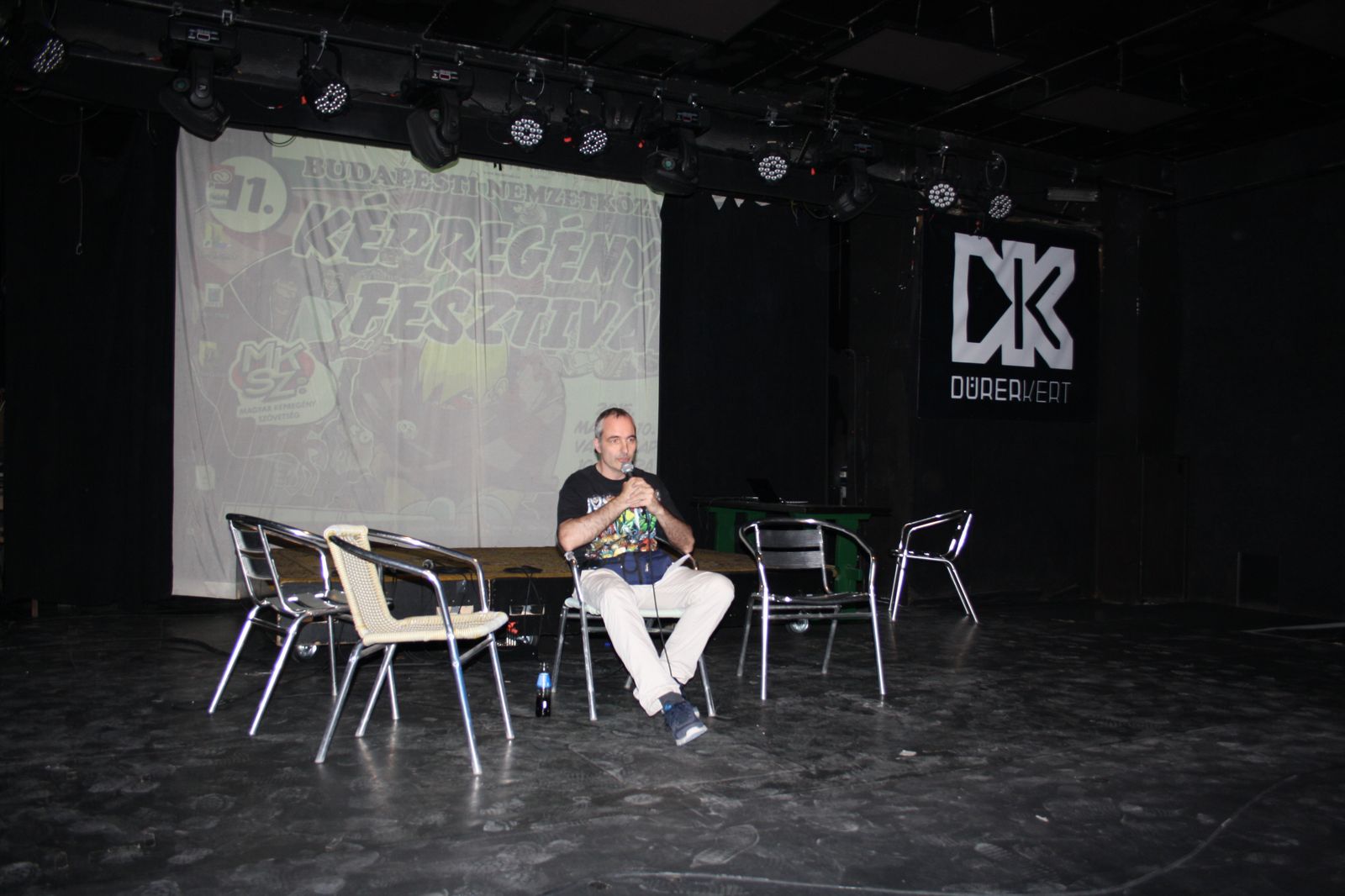 Marvel and DC: publisher Tamás Harza reveals some of the projects of the Kingpin publishing house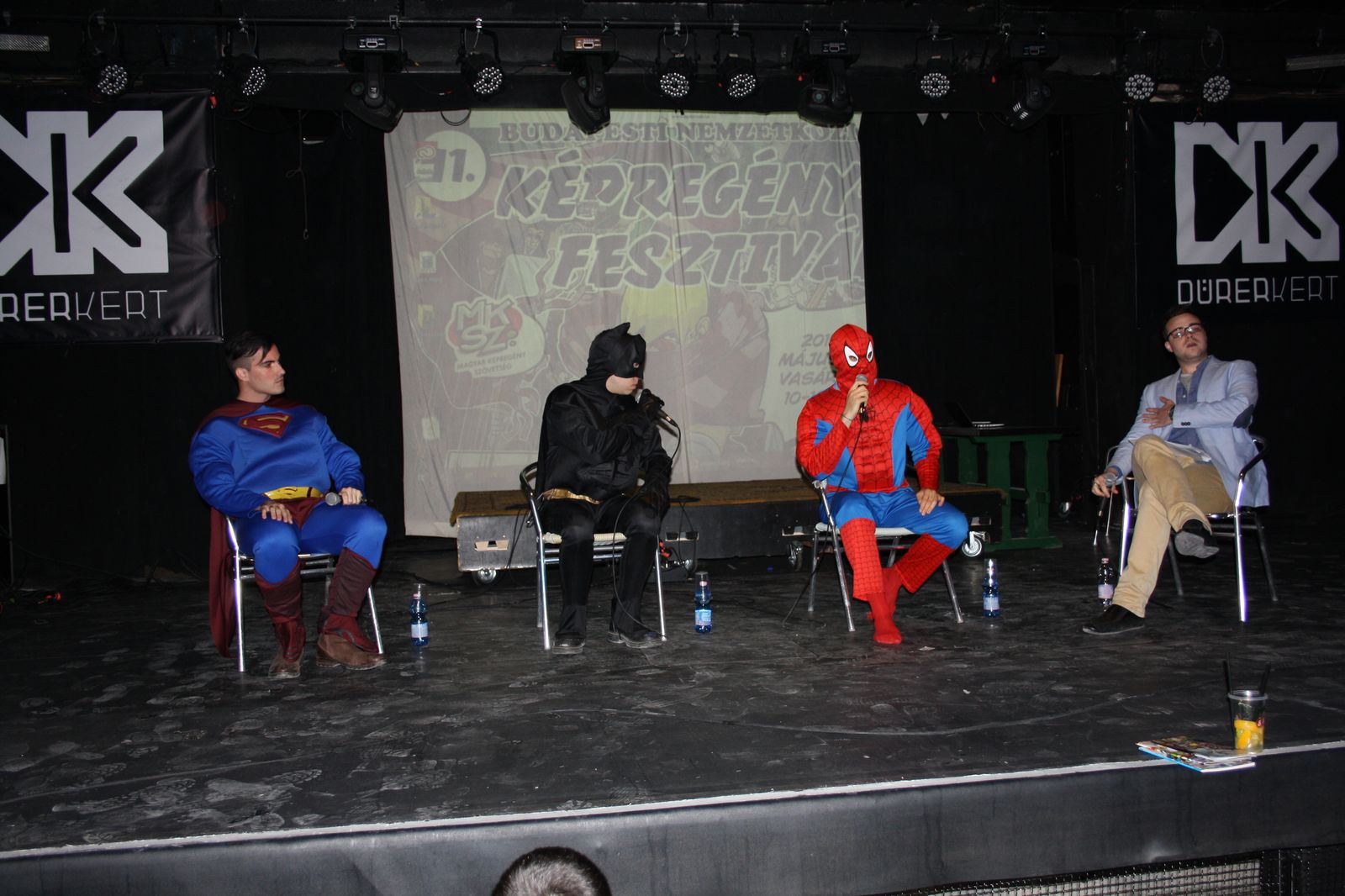 Superman, Batman and Spider-Man "up close", staged by András Korcsmáros and company
The artists at work: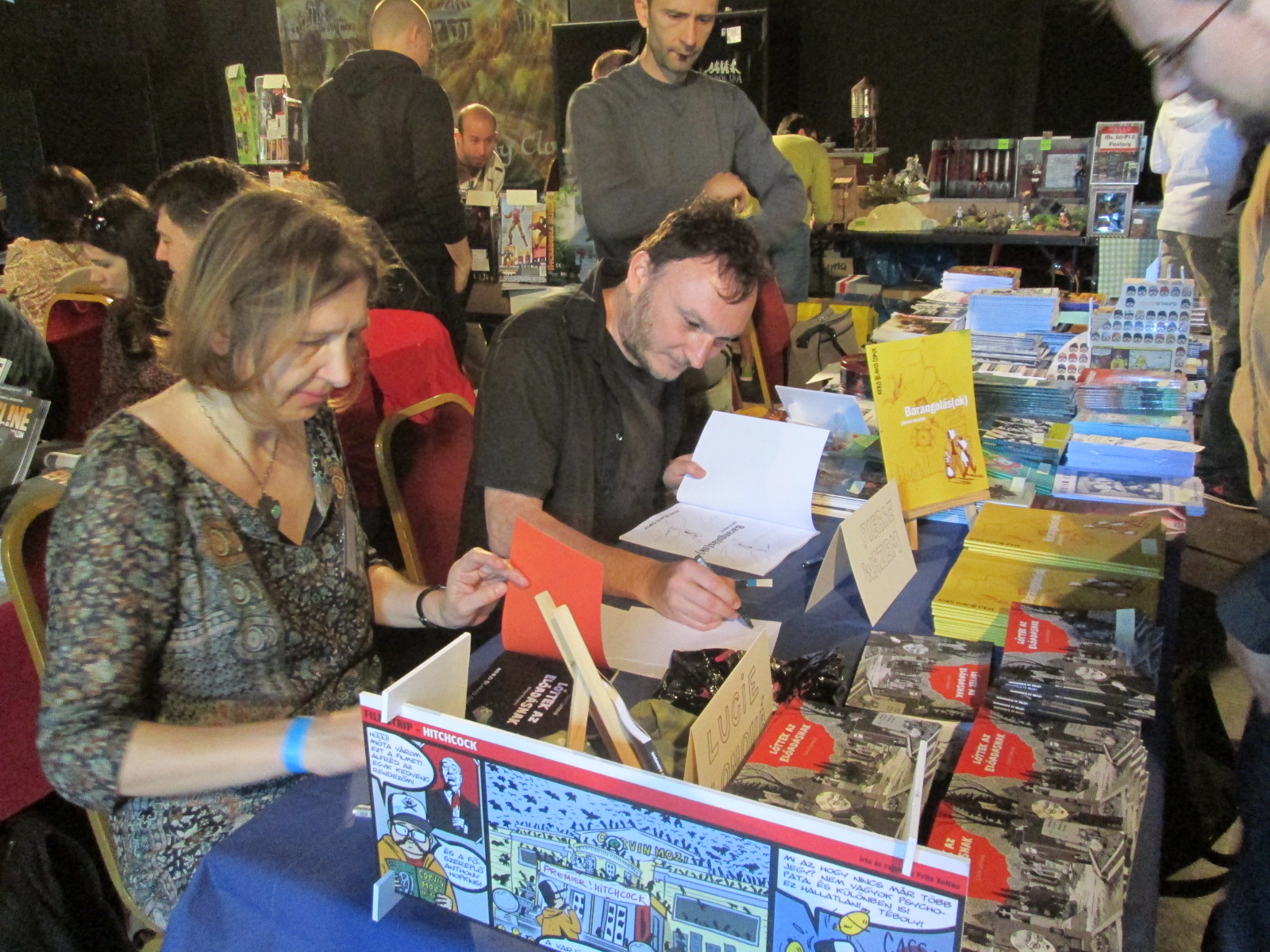 Lucie Lomová and Pierre Wazem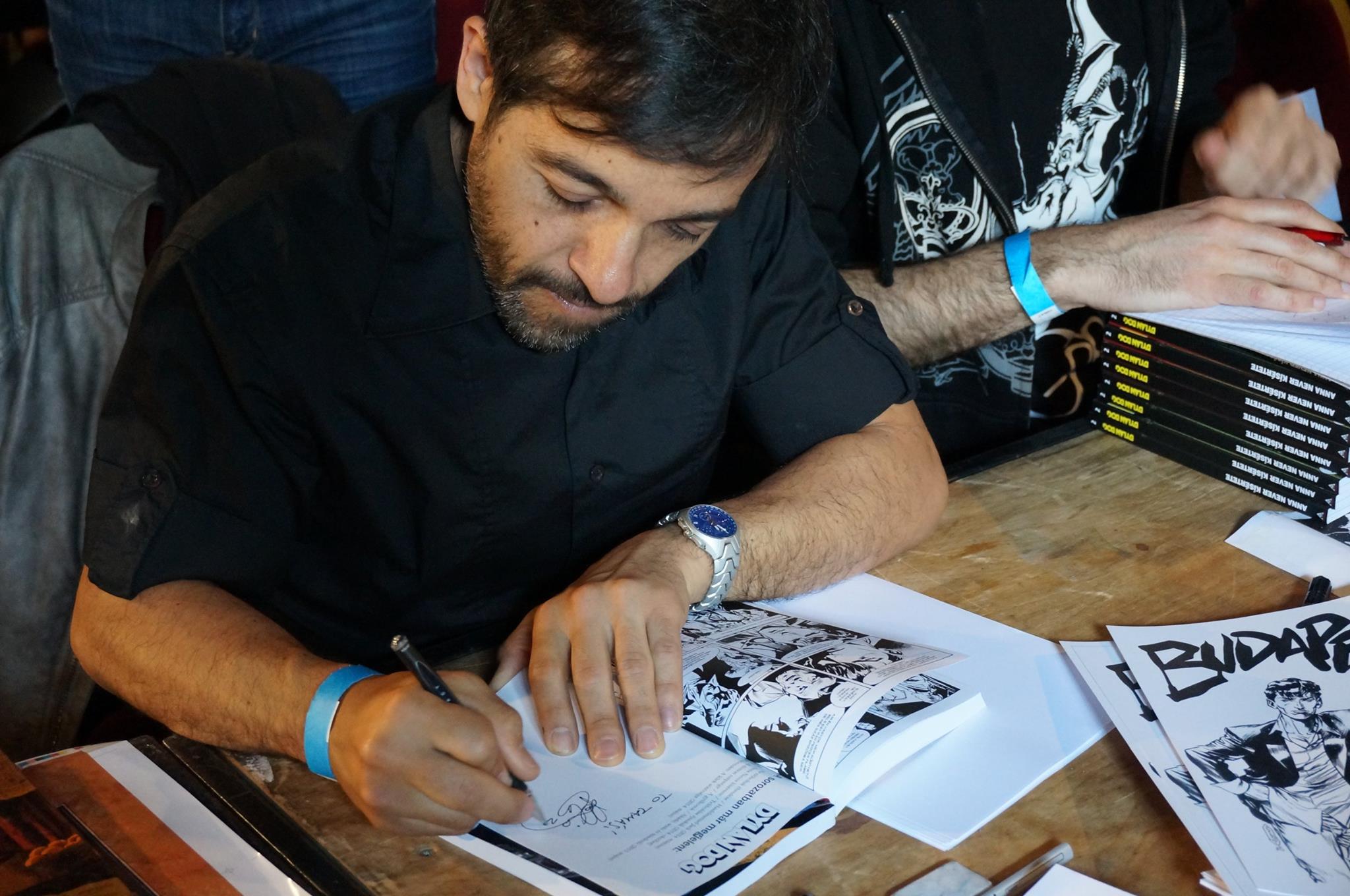 Fabio Celon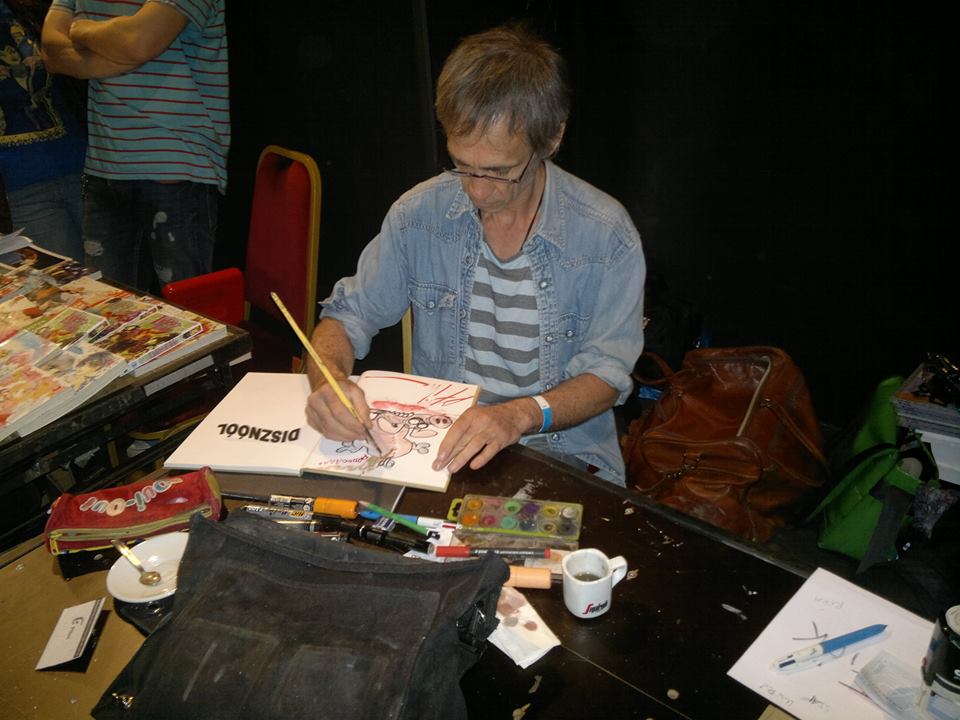 Ptiluc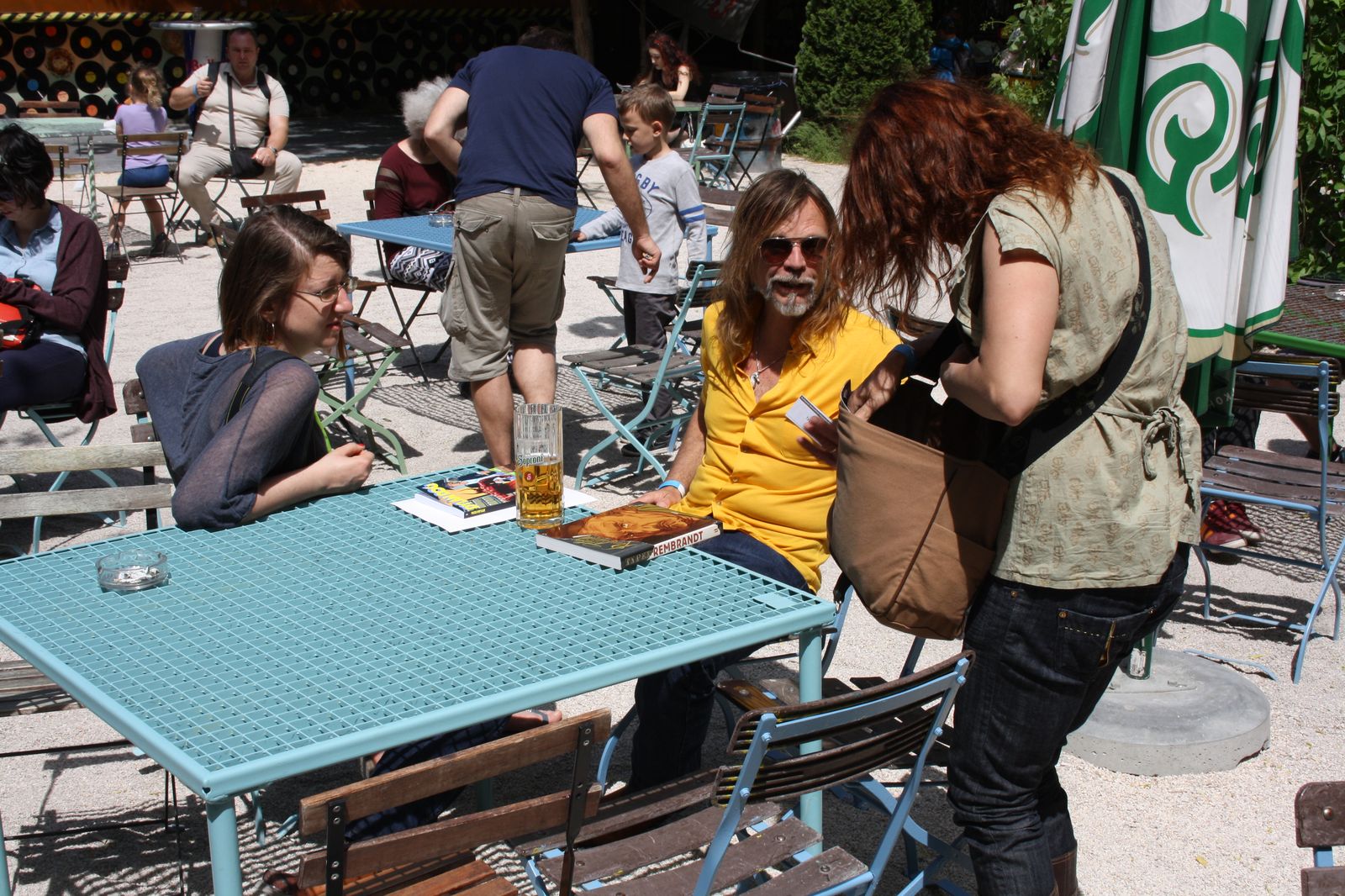 Typex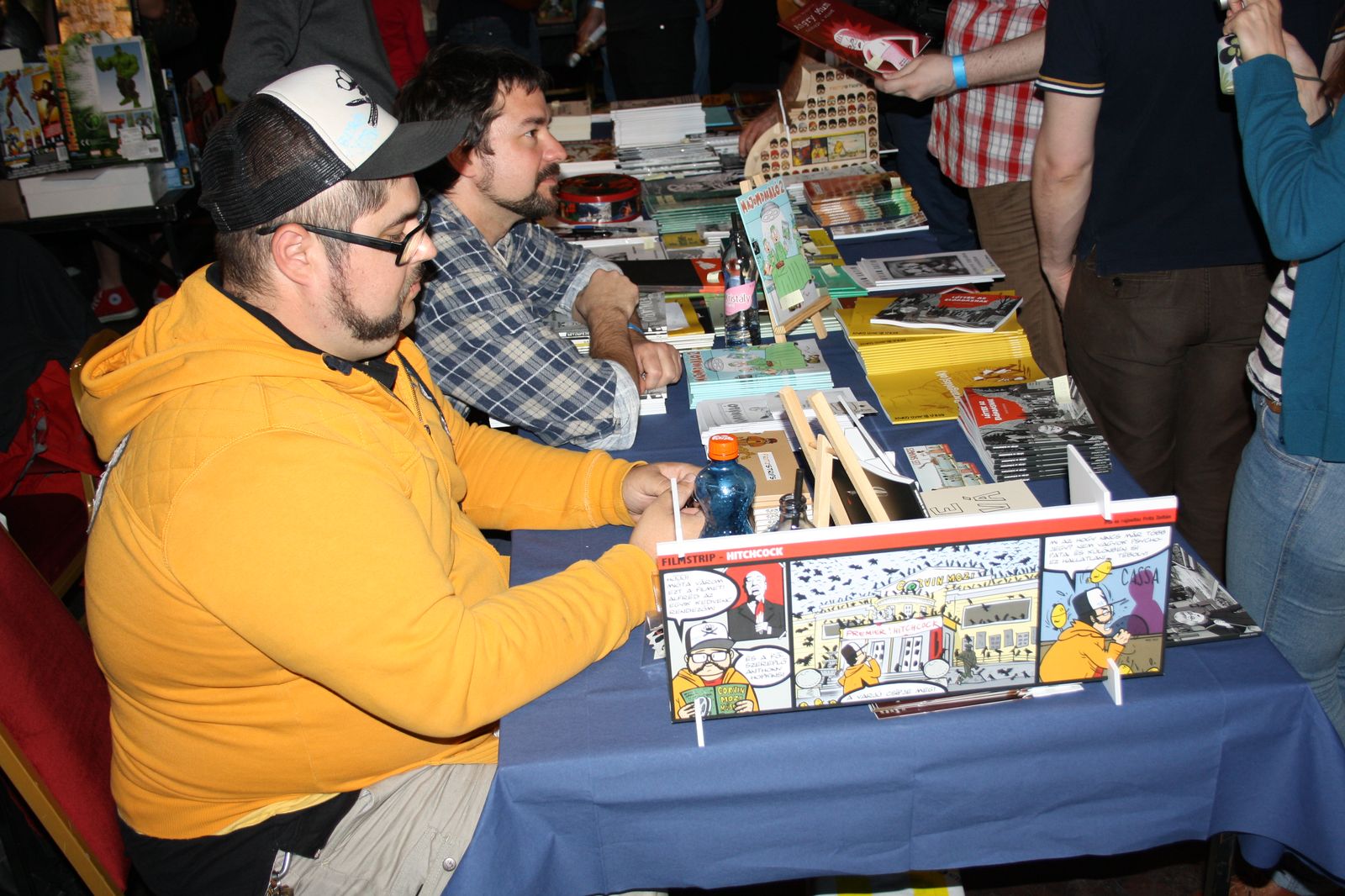 Zoltán Fritz and Gergely Madarász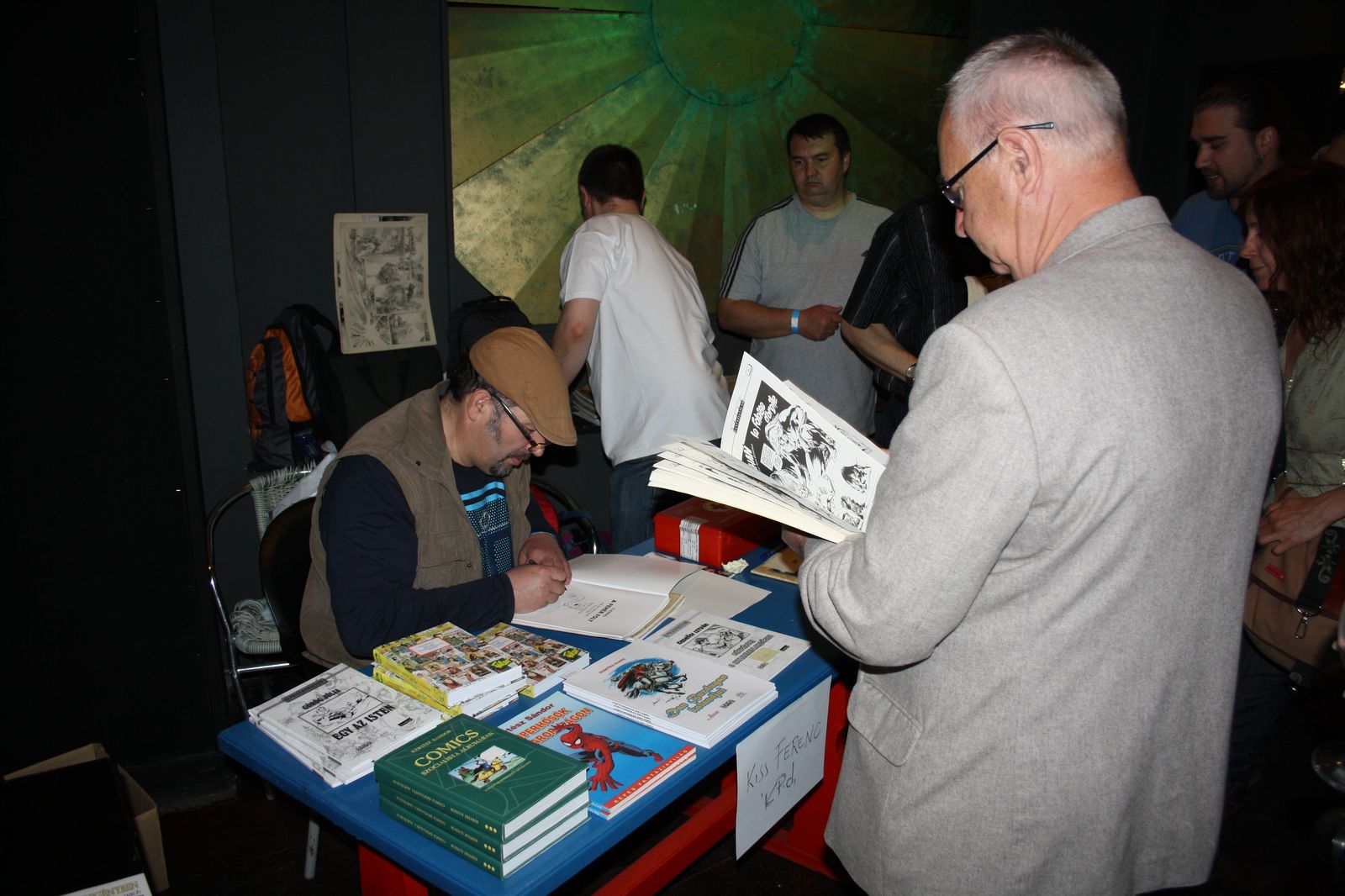 Péter Zsoldos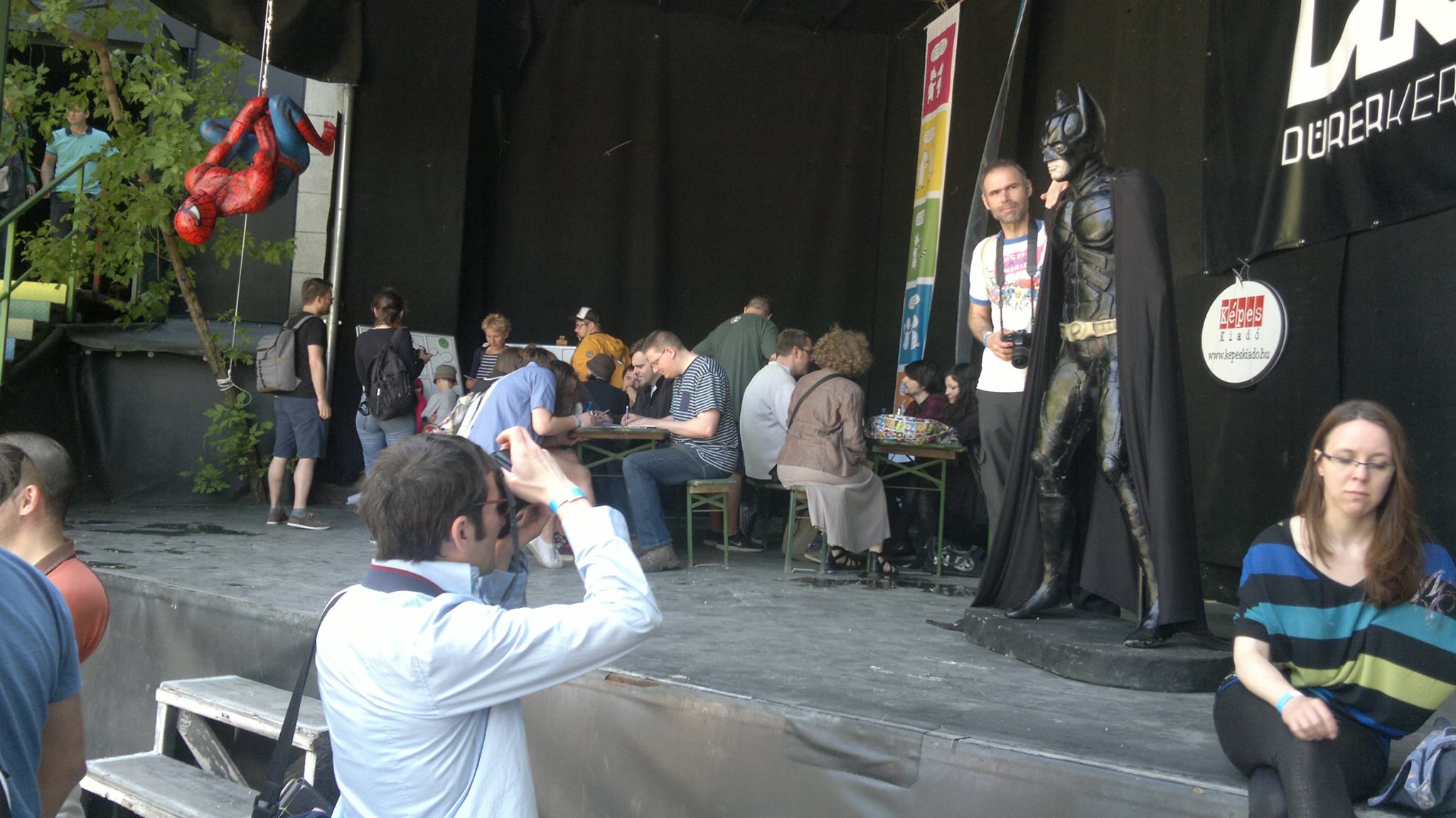 The artists' area and our official photographer posing with Batman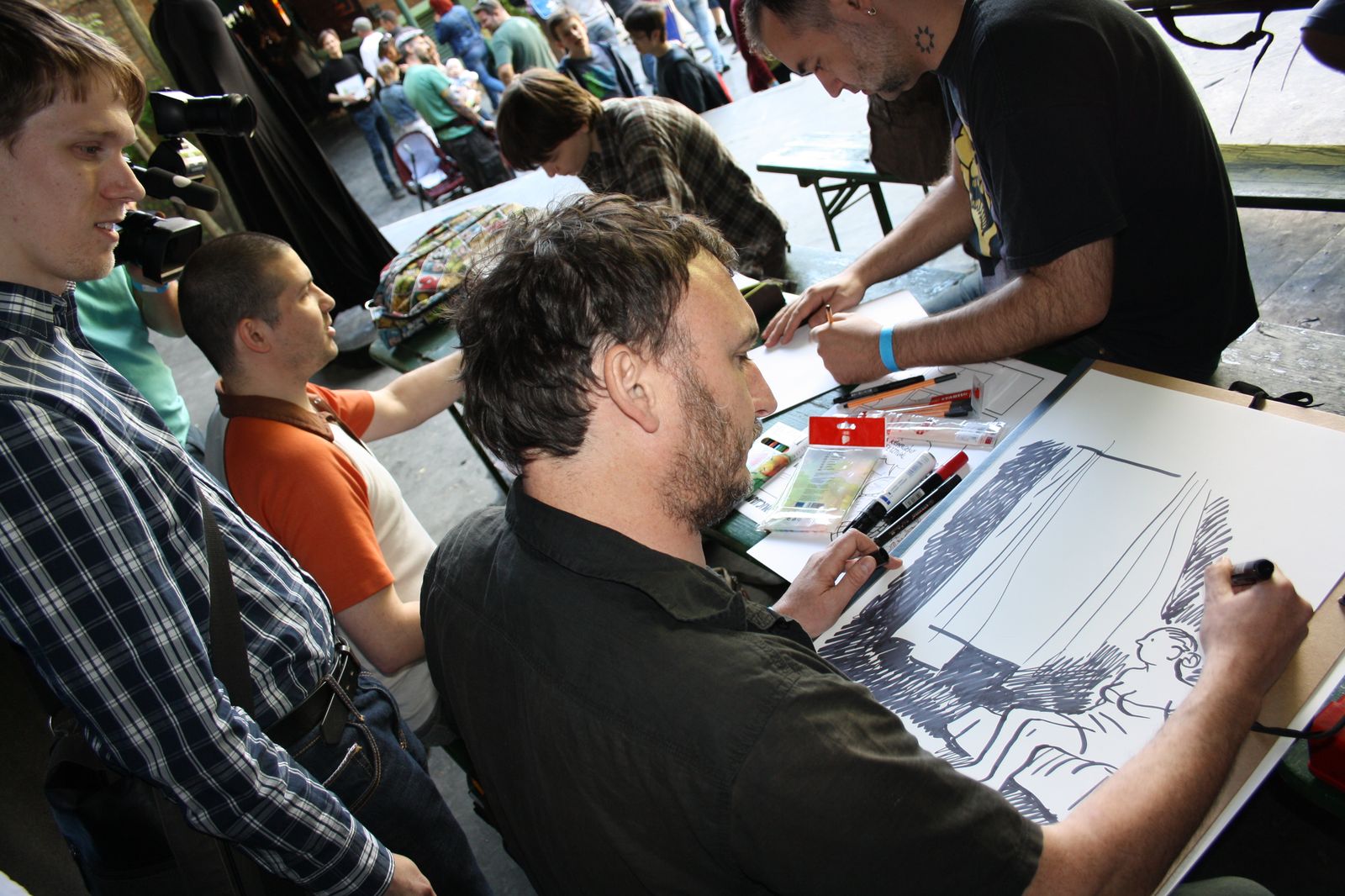 Pierre Wazem joined in for some imprvised drawings
The indefatigable hosts of the festival: Róbert Vass and Eszter Szép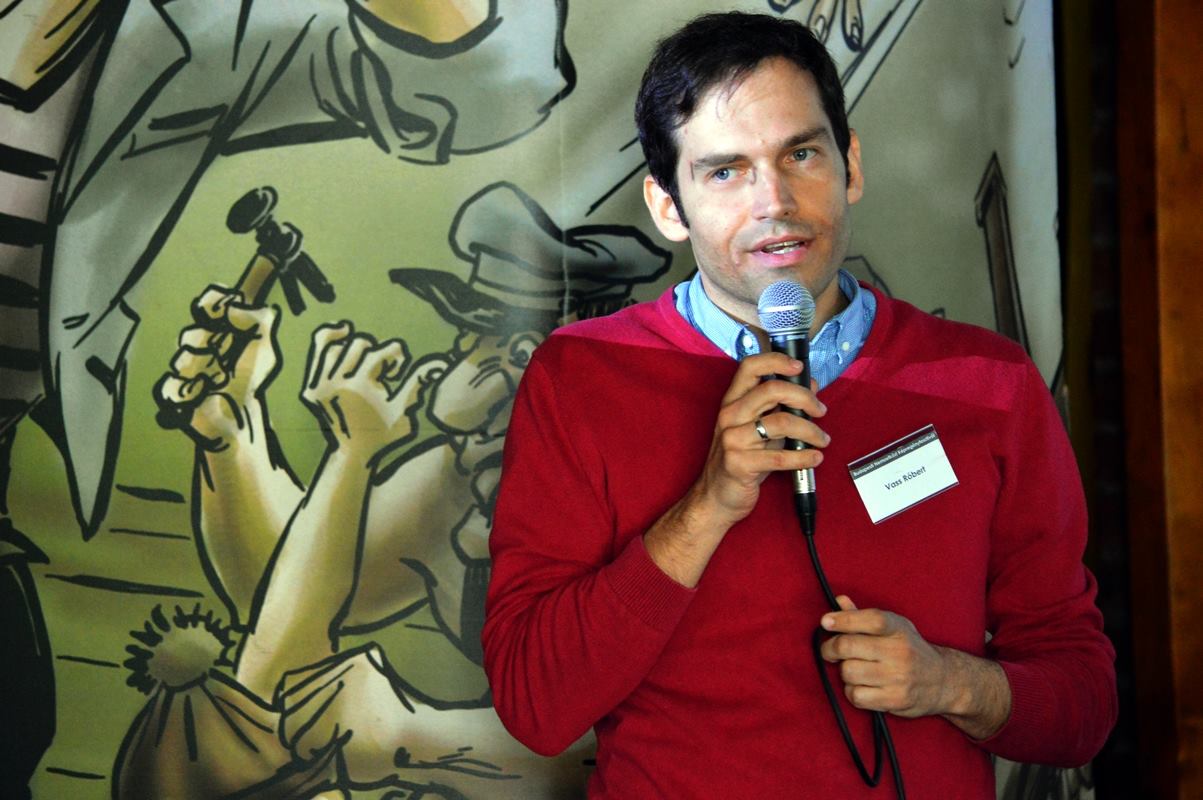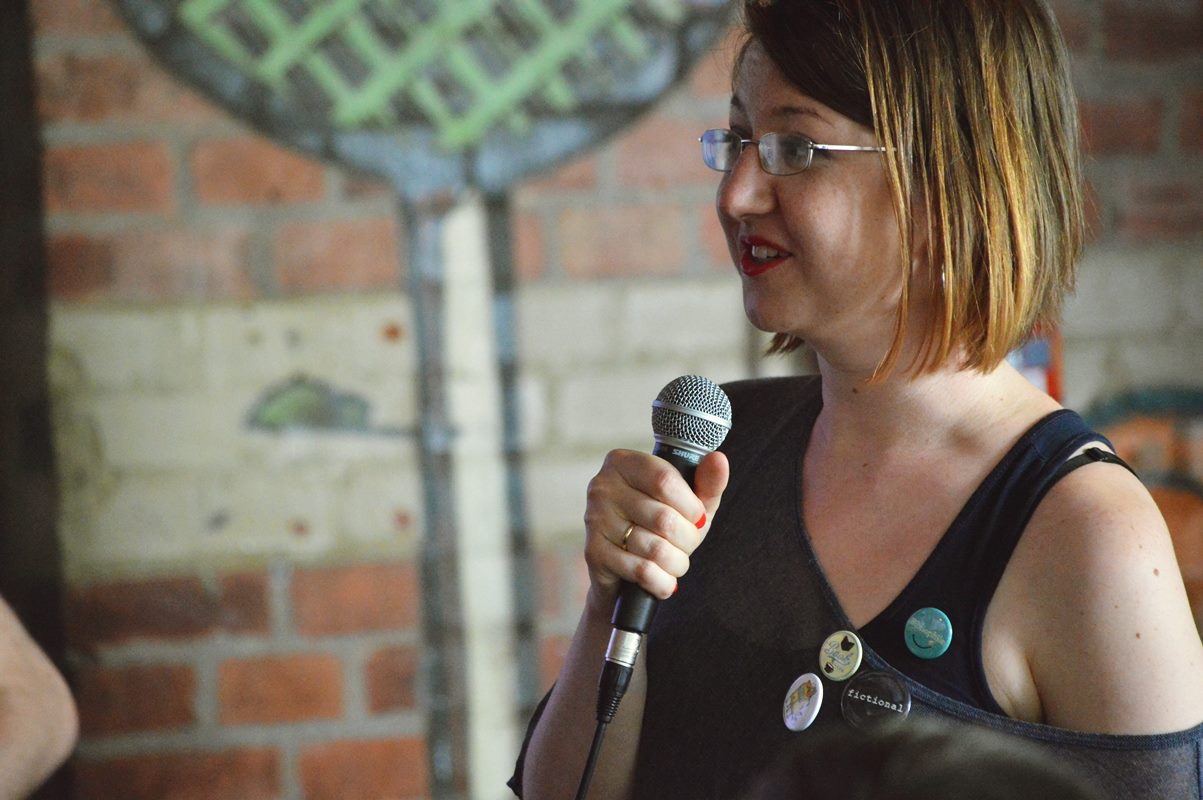 See you all in 2016, at the 12th Budapest International Comics Festival!